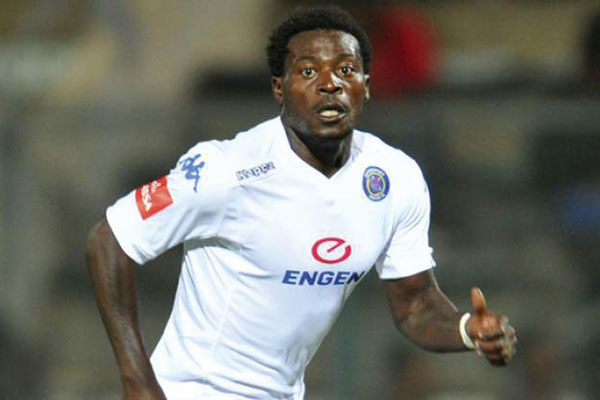 KINGSTONE Nkatha is set to make his debut for Harare football giants Dynamos when they face-off old enemy Highlanders in a rescheduled Castle Lager Premier Soccer League (PSL) clash on Sunday.
BY TAWANDA TAFIRENYIKA
The forceful forward signed for the Glamour Boys as a free agent from South African Premiership side SuperSport United more than a month ago.
He, however, couldn't feature for them as his clearance from SuperSport had arrived after the closure of the transfer window on July 31.
According to the statutes governing player transfers, in particular free agents, as is the case with Nkhatha, a player can only be eligible to play after a lapse of a 30-day period if his clearance from his former club comes when the transfer window has closed.
This meant that Nkhatha had to wait until the expiry of the 30-day period. And with the required time frame having lapsed at the weekend, Dynamos who had already registered the player with the PSL, are now just waiting for his international transfer certificate (ITC) from the South African Football Association (Safa) for him to be licenced.
Ordinarily, an ITC shouldn't take much time and Nkatha expressed optimism he would play a part on Sunday.
"I have been told the clearance from Safa should arrive between today (Monday) and Tuesday, so I will just wait to hear from them. This is a big game for both teams. There is a lot at stake and no team wants to lose this one. Both parties want to represent their town with pride and distinction and I hope we will go there and emerge victors. I just can't wait. Since I joined Dynamos, I have been looking forward to play a part, so I hope all the papers will be in order before the trip to Bulawayo. Dynamos have been playing well of late and I will be looking to also make a positive contribution," Nkatha said.
Dynamos team manager Richard Chihoro was optimistic yesterday that Nkatha will be ready for selection in Sunday's blockbuster.
"All is in order. We are now just waiting for the ITC from Safa. We hope to have everything in place before we leave for Bulawayo. From this end, we had done the registration already so we are now waiting for the ITC," Chihoro said.
Dynamos will be hoping to build on their weekend victory over Bulawayo City whom they overcame 2-1 with Denver Mukamba and Quality Kangadze scoring to secure maximum points. The Glamour Boys have lost just once against Ngezi Platinum in their last five matches.
In contrast, Highlanders have been poor in their last five matches losing to Chicken Inn and Ngezi Platinum on Sunday.
But having won the reverse fixture in Harare, Highlanders should be high on confidence on Sunday.
The Highlanders-Dynamos match is the only league match that is on this weekend.