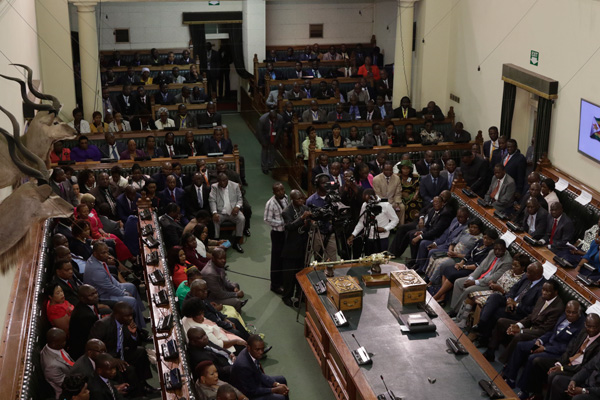 THE Zimbabwe Human Rights Association (ZimRights) has noted the swearing in of legislators for the Ninth Parliament of Zimbabwe yesterday.
guest column: ZimRights
As the new legislators begin their task, it is crucial to note that they have a duty as representatives of the people to safeguard public interests by ensuring that they hold the Executive accountable.
Notably, the Ninth Parliament must diligently play its oversight role to ensure there is zero tolerance to corruption, and there is prioritisation of social services, implementation of the Constitution and constitutionalism and human rights protection.
In terms of human rights and democratic reforms, the Ninth Parliament must ensure Zimbabwe domesticates treaties already signed by the President such as the African Charter on Elections Democracy and Governance.
The Legislature must also encourage the Executive to sign instruments such as the United Nations Convention Against Torture and the International Convention for the Protection of All Persons from Enforced Disappearance as well enact domestic laws that criminalise torture and abductions.
Where corruption is concerned, the Ninth Parliament must continue with investigations from the Eighth Parliament into the unrealised revenues from the extractive sector, especially diamonds, as well as ensuring adoption and implementation of the recommendations from the Office of the Auditor-General with regards to public financial management.
The Ninth Parliament must come up with a development-oriented agenda to ensure poverty eradication and sustainable economic growth.
This task requires that legislators rise above partisan interests to be custodians and defenders of the national interest of all Zimbabweans regardless of political affiliation.
In line with section 141 of the Constitution, the Ninth Parliament must remain open to participation by members of the public in its legislative agenda through public consultations on important matters.
The Ninth Parliament has a central role to play in deepening democracy, including ensuring that issues that arose from the 2018 harmonised elections are addressed.
Legislators must also work assiduously in implementing the Constitution of 2013 by ensuring among other things the realisation of devolution, implementation of robust national healing and reconciliation, and strengthening of Chapter 12 institutions such as the Zimbabwe Human Rights Commission, National Peace and Reconciliation Commission and Zimbabwe Gender Commmission.
ZimRights is a human rights lobby and advocacy group