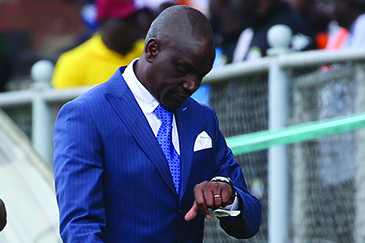 TROUBLED Dynamos host Bulawayo Chiefs at Rufaro Stadium tomorrow afternoon in the Chibuku Super Cup first round match, with the Harare giants seeking consolation in order to quell the growing discontent in their camp following what has been a disappointing season in the league, where they are facing a grim possibility of relegation.
BY HENRY MHARA
DeMbare's form in recent weeks has been tepid, with coach Lloyd Mutasa's (pictured) job increasingly getting insecure.
Two defeats and a draw in their last three matches have left the Glamour Boys just two points off the relegation zone and with no sign of their poor form ending anytime soon, the future is not looking good.
With so much negativity surrounding their game in the league, the Chibuku Super Cup will come as a welcome distraction to Mutasa and his players.
"As a team, we would want to have something in the cabinet and you look where we are, we can't win the league so this is where we should put all our efforts," Mutasa reckons. Their mission to lift the trophy and provide some solace — even if they avoid relegation in the league — will be a tough one.
The players' confidence is at its possible lowest point. Their form in the competition in recent history is poor, having failed to go past the first round twice in the last two editions. Ironically, they crashed out on both occasions against teams from Bulawayo.
In 2017, they lost on penalties to How Mine, and were beaten 2-1 by Bulawayo City last year.
"Our short-term goal is to try and break the jinx, go past the first round which we did not manage to do in the past seasons. We always meet these teams from Bulawayo but I'm sure there is always a first time and we hope we will manage to go past the first hurdle although we know that Chiefs is a good team," Mutasa said.
Dynamos' biggest undoing has been their failure to score goals this season. In their last five matches, they have managed to score just twice, in the 2-1 against bottom-placed Bulawayo City.
Their performance against Harare City on Sunday, though, gives Mutasa hope. The team did everything right, but failed to convert.
"This is a new journey, a new competition and you look at how the youngsters put up a show (against City). We were not all that bad in terms of playing as a team. The boys put all their effort, they tried their best, created chances, but could not put the ball over the line, something that we have been working on this whole week. I'm sure this game being a cup game, there has to be a winner and you can only do so if you put the ball over the line."
Mutasa also has a message to the club's fans whose attendance at the games has been dwindling with each passing week.
"The majority of our fans are probably saying it's done and dusted in terms of competing in the league hence they stay away, but now every other team in this competition has an equal chance and we would want an element of belief within the camp. Our fans should come and rally for the team, because we have everything to play for in this competition."
Dynamos will be without injured James Marufu, Obey Mwerahari, Kingstone Nkhatha and Peace Makaha for the match.