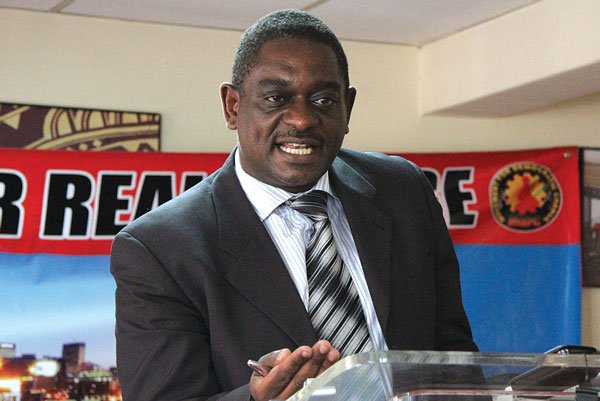 THE MDC Alliance yesterday blasted Speaker of the National Assembly Jacob Mudenda for claiming that the opposition legislators in the last Parliament never moved any motion for electoral laws.
BY VENERANDA LANGA
Mudenda early this week told members of International Republican Institute and National Democratic Institute Joint Zimbabwe International Electoral Observation Mission that he had always been ready to receive proposed electoral reforms, but nothing came from the opposition.
"The only approach in that respect was from the Zimbabwe Elections Support Unit and we met them as Parliament in Bulawayo, where they complained about electoral reforms and that they needed to be undertaken by Parliament," he said.
But former MDC-T chief whip Innocent Gonese described Mudenda's utterances as misleading.
"That is not correct because for the past five years, the opposition has been talking about amendments to the electoral laws and alignment of their provisions to the Constitution and at that time, current President Emmerson Mnangagwa was the Justice minister and he even promised that there will be reforms," he said.
Gonese said the Parliamentary Portfolio Committee on Justice was led by opposition member Jessie Majome for more than three years during the Eighth Session of Parliament which began in 2013, and the committee went for public hearings to try and reform the Electoral Act.
"What the Speaker said was unfortunate because we even went for public hearings on the Electoral Act where MDC legislators Majome, Priscilla Misihairabwi-Mushonga and I were harassed and beaten up by Zanu PF supporters who did not want reforms," Gonese said.
He said during the debates on the Electoral Amendment Bill in the National Assembly in 2017, he initiated a lot of amendments to the Bill on behalf of the MDC-T to ensure it was in line, with the Constitution, but they were all rejected by Justice minister Ziyambi Ziyambi.
"I personally was sent by the MDC-T to make a lot of proposals to the Electoral Act, which included issues to do with voter education, voter registration, intimidation, printing of ballots and almost everything that we were unhappy about. The Justice minister Ziyambi Ziyambi, dismissed all our suggestions. We even went home very late (while) debating the issues, but they were rejected one by one by Zanu PF," he said.