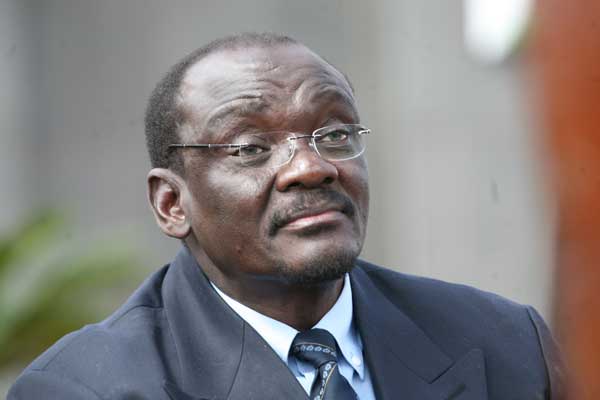 VICE-PRESIDENT Kembo Campbell Mohadi, who is embroiled in a nasty divorce with his wife Tambudzani Bhudagi Mohadi (nee Muleya), has transferred his divorce matter from Bulawayo High Court to Harare where the case has been allocated another case number, Southern Eye has learnt.
BY CHARLES LAITON
Initially, the Vice-President had petitioned the Bulawayo High Court under case number HC2520/17 through his lawyers Mugiya and Macharaga Legal Practitioners, before moving it to Harare under case number HC8128/18.
Although the reasons for the latest development could not be established from his lawyers, it is apparent that Mohadi recently approached the Civil Court in Harare seeking a protection order against his wife, accusing the latter of threatening his life.
In an application filed on August 10 and still awaiting determination at the Civil Court, Mohadi pleaded with the court to grant an order barring Tambudzani from selling the couple's matrimonial property before finalisation of the divorce matter.
In his founding affidavit, Mohadi said he was urging the court to issue a protection order as a matter of urgency because he feared for his life, claiming Tambudzani had been calling him on his mobile phone issuing threatening messages.
"After the respondent (Tambudzani) got served with a copy of the divorce summons, the respondent has escalated her violent tendencies against my person (Mohadi) and even calling me on my mobile phone while insulting me and threatening to tarnish my image, which has the potential to damage my political endeavours in view of my political office and as a member of the government," Mohadi said in his founding affidavit under case number DV1797/18.
The VP further said his wife had even gone to the extent of influencing the couple's children to turn against him and to also participate in disposing the couple's matrimonial property despite the pending High Court matter.
"To live up to her word, the respondent is now influencing the children, in particular (names supplied, but withheld) to insult and turn against me and they are also selling some other matrimonial property with the blessing of the respondent," Mohadi said.
"I am a law-abiding citizen and given the increasing incidences of people who are killing their spouses for passion, I pray that this honourable court protects me against the threatened violence."
On September 5, 2017, Mohadi, who was State Security minister then, approached the court seeking nullification of couple's marriage claiming that it had irretrievably broken down.
According to Mohadi, he married Tambudzani sometime in 1981 during which time the couple lived together before separating in 1999, after realising that his life had been a "living hell".
"I am married to the respondent in terms of Marriage Act, (Chapter 5:11) and the marriage still subsist. However, the marriage developed some irreconcilable differences which led to the separation of the parties some 19 years ago and as such, there are no prospects of restoration of a normal marriage," he said, adding: "I have approached this honourable court seeking an order for protection against the respondent in terms of the Domestic Violence Act, more particularly in that the respondent is a very abusive person and/or a person of a violent disposition such that I am now leaving in fear of my life."