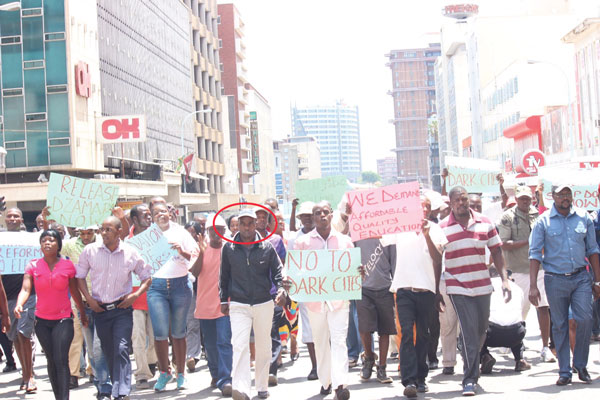 HIS small frame was visible on the frontline each time the Nelson Chamisa-led opposition MDC-T held both legal and illegal demonstrations in Harare.
BY JAIROS SAUNYAMA
He became familiar to those who followed politics as a brave young man, but to the security agents he was a nuisance and stubborn youth.
The name Denford Ngadziore might not be popular to many, but he is known in opposition circles as 'Madhuku' –a young man who became a jail bird and subject to immense torture especially during the former President Robert Mugabe's era where freedom of expression was a taboo.
Now, the Chipinge-born activist will be frequenting Town House as the councillor for Harare ward 16.
He was arrested about 14 times and endured all forms of torture as he led both MDC-T and civic society demonstrations mainly against the Mugabe regime.
His tale depicts sheer bravery and given his background of a serial political violence victim-Ngadziore has made it in life despite some feeling that the position of a councillor is not enough.
"I have a conviction that once you assume a leadership role in whatever programme, you need to lead from the front. I have been doing that despite the associated risks. It needs courageous people to confront the Zanu PF regime which thrives on violence in responding to people who will be constitutionally demonstrating," said Ngadziore.
As a boy who grew up in a rural area, Ngadziore started activism at school before his love of politics blossomed when he came to Harare in 2002.
"I joined politics in Chipinge when I was doing O-level. I later came to Harare in 2002 and became MDC-T's ward 21 branch secretary in Mabvuku the same year," he said.
Although he has lost count of the demonstrations and protests he led, Ngadziore vividly remembers all the moments he got arrested and the most torturous moment he experienced in his political career.
"I was arrested 14 times, that is 10 times participating in MDC-T-organised protests and the other four as part of demos organised by civic society organisations.
"The most painful moment for me was in 2007 when we were arrested and we spent over a week without going to court. We were accused of bombing police stations countrywide. We were then later released at midnight and admitted at Dandaro Clinic for two weeks.
The police law and order officers were assaulting and torturing us every night. Moreover we were denied legal assistance," recalled Ngadziore.
He is also one of the founding members of the popular Tajamuka/Sesijikile pressure group that gave Mugabe sleepless nights few years ago.
Despite all the arrests and detention, the newly-elected councillor was acquitted of all the charges levelled against him.
"I was arrested, detained and tortured but I was acquitted, no conviction in all the charges levelled against me," he said.
Today, he walks in and out of Harare Town House as councillor after losing on two previous occasions during MDC-T primary elections.
However, through hard work and determination, he convincingly won on his third attempt.
"I contested in the MDC-T primary elections in 2008, 2013 and 2018. In 2013, l narrowly lost with three votes after getting 93 votes and my opponent the late Councillor (Lancelot) Mudavanhu who got 96.
"However, this time I was more prepared than before. It was a win at all costs. I defeated Memory Chitambo after polling 187 and she got 17 votes only," he said.
During the harmonised elections, he walloped Zanu PF's Spencer Mabheka with more than 5 000 votes.
Life is full of ups and downs, and through his zeal and dedication to opposition politics, Ngadziore is now a councillor for the capital city and representing residents from the affluent suburbs of Greencroft, Mabelreign and Meyrick Park, among others.
But few years ago, he was just that stubborn boy leading and participating in almost every protest in the country. Under the Mugabe regime, he suffered both physically and emotionally.
But, how did he earn the Madhuku nickname?
"It's a nickname after my involvement in NCA demonstrations, also some people say I look like professor (NCA leader Lovemore Madhuku).
We are not related but l treat him as my brother he also treats me as his young brother despite our political differences. Our Chipinge background strengthened our relationship within political circles," he said.
Now that he is a councillor who knows where he is going to land next?
Only time will tell.