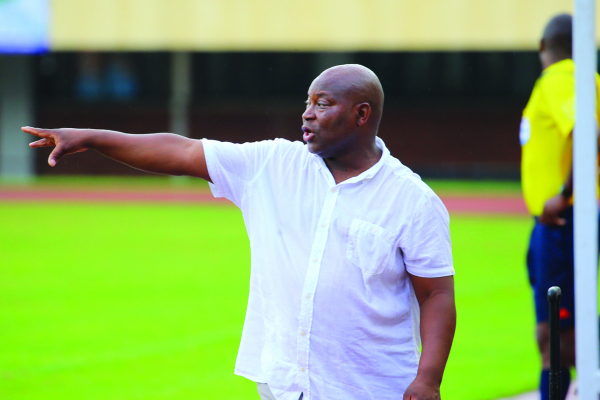 DESPITE demanding a top four finish from his players in the Castle Lager Premier Soccer League, Highlanders coach Madinda Ndlovu says he has no choice, but to rest some of his regular players for the mid-week clash against Yadah at Barbourfields Stadium tomorrow.
BY FORTUNE MBELE
Highlanders bundled Yadah out of the Chibuku Super Cup with a 2-1 win on Sunday and meet them again in the league at Barbourfields tomorrow.
After Yadah tomorrow, Highlanders face Caps United at the National Sports Stadium on Sunday.
After the Chibuku Super Cup first round match, Ndlovu said his boys were still tired and did not play their normal game.
"We didn't play the type of football that we normally play; maybe we will play it on Wednesday (tomorrow). We look forward to playing our normal game. We still have a lot of things to do, the boys look like they are still fatigued and we have a mid-week game. I will put my head on the block and use other players who are still fresh to play that game on Wednesday. We will get nothing from these boys if we play them on Wednesday and we play them again over the weekend after having gone through that tormenting trip to Mutare and to ZPC Kariba," Ndlovu said.
Godfrey Makaruse, Newman Sianchali, Ben Musaka, Vincent Moyo and Honest Moyo could start against Yadah tomorrow with Adrian Silla, Nigel Makumbe, Tendai Ndlovu, Gabriel Nyoni and Brian Banda taking a rest.
Last week, Ndlovu said Highlanders must win all their last five games that will be played at Barbourfields Stadium beginning with Yadah tomorrow to ensure a top-four finish, otherwise they start from scratch next season with some players losing their places in the team.
"This is the time that I have gone out and openly demanded something from my players. I have told them that if they need to keep their positions within the team for next season and if they don't finish the season in the top four, we start all over again. They must fight for top four. They must win the last five home games to meet that target," he said.
The last five games to be played at BF are against Yadah (tomorrow), Bulawayo City, Harare City, Bulawayo Chiefs and FC Platinum.
The Bulawayo giants will however be away against Bulawayo Chiefs with the other away matches against Caps United, Chapungu and the rescheduled tie against Shabanie Mine.
Yadah are staying put in Bulawayo after the Sunday defeat.