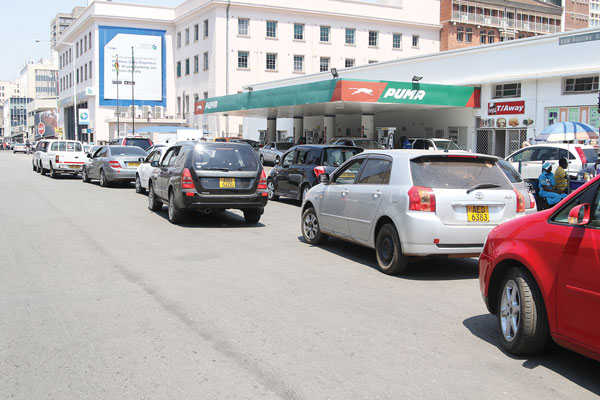 Long fuel queues resurfaced in Harare and other parts of the country yesterday as most service stations went dry, with many motorists resorting to panic buying.
BY Everson Mushava/Tatenda Chitagu
NewsDay observed a long queue at Montague Service Station in Harare in the morning, where a fuel tanker was offloading.
"Yesterday, I struggled to get fuel to go home and the moment I saw fuel being offloaded, I decided to queue so that I could buy whatever they would allow me to. I take children to school every morning, and I can't do without fuel," one motorist who only identified himself as Steve told NewsDay.
In Harare, the black market for fuel immediately resurfaced, with some illegal fuel dealers cashing in on the crisis, charging as high as $2 per litre against a pump price of $1,40.
While the situation was reportedly stable in Gweru and Mutare, motorists in the country's oldest city, Masvingo, had a torrid time getting fuel where only three service stations had supplies
Fuel attendants attributed the shortages to delays in getting supplies from South Africa due to pressure at the Beitbridge Border Post.
"Our deliveries delayed so we could not re-stock in time, but very soon things will be fine, maybe tomorrow the situation would have normalised," said one fuel attendant at a local service station.
Motorists interviewed said they had spent close to an hour in the queues, awaiting to re-fuel.
"It is almost an hour now before I have been served. I do hope we are not gliding back to the scenario of 2008 where we slept in fuel queues," said one motorist.
Players in the fuel sector have however, previously blamed shortages on the late disbursement of foreign currency by the Reserve Bank of Zimbabwe.
But Energy minister Joram Gumbo said the temporary shortage was caused by panic buying. He said the country had enough stocks to last a month.
"The fuel situation in the country is quite stable. Stocks are good in the country. We have enough fuel for all the three categories, jet A1, diesel and petrol," Gumbo said yesterday.
"The problem is with the people who do panic buying, hoarding fuel and even keeping it at home, which is even very dangerous. It is panic buying caused by social media. I assure the people not to panic. The public must know that we have enough fuel in the country."
The spiralling US dollar parallel market has triggered a wave of price increases which have forced people into panic buying, anticipating shortages in the near future as the country's economy continues to hit turbulence.