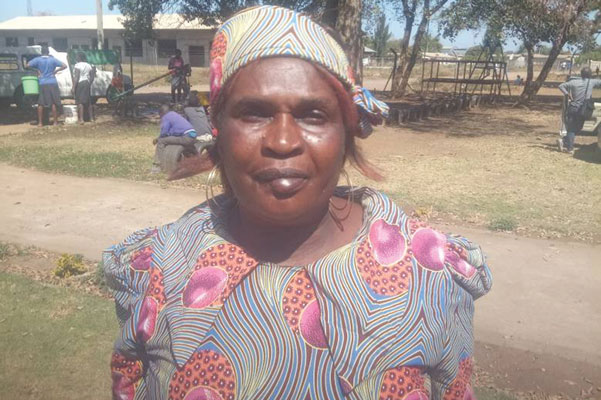 EDNA Pawandiwa tested HIV positive in 2005 while working as a bar attendant for Gweru City Council in the city's densely populated suburb of Mambo. The events that followed in her life were devastating.
BY BRENNA MATENDERE
She was immediately dismissed from work by her supervisor under unclear circumstances. Her husband also ditched her.
Pawandiwa tried her hand at selling vegetables, but she lost customers after they learnt of her HIV status.
The developments took a toll on her health, and she shed over 60kgs.
"During that stage I would squeeze the back of my body so that I could breathe. When seated, I would feel like my bones were pressing against the chair," she said.
Pawandiwa believed she had come to the end of her rope and awaited death. But just in the nick of time, she was thrown a lifeline when a group of women doing door-to-door visits to people living with HIV came to her house.
The women were from Yamurai, a health support group based in Gweru, formed after members realised the need to educate communities on the need to provide care for people living with HIV and other chronic conditions.
"My life just changed when I was drafted into the support organisation where together with other women living with the same condition we came together to relate. Their counselling and teachings made me free to say out my HIV positive status in public," Pawandiwa said.
"The organisation's work gave me hope and a person who saw me before I met them will refuse that it is me with this body. Even my husband who ditched me, each time we meet he will try to come back to me."
When the women living with HIV gathered, they were taught on several aspects of life and drafted into self-help projects to earn a living. The projects included crocheting, embroidery, peanut butter-making, production of detergents, sewing, gardening and chicken rearing.
They were also taught on how best to positively live with HIV and the current trends on the pandemic.
Many other people living with HIV said they had found solace and hope interacting together as a group at Yamurai.
Sylvester Nyathi (48) and Janet Ndebele (44) are a couple living with HIV. They had their first child, who is now almost two years, after they had tested HIV positive.
"We believe that support groups like the one we have at Yamurai are important. The knowledge on how to have an HIV negative child while both parents are living with HIV was imparted to us at the support group. We are now a happy couple because we had thought we would never have a child in our marriage," said Nyathi.
Godfrey Gavisi (50) who has been living with HIV for the past 18 years concurred.
"I now give testimonies at gatherings and give lessons to people who are infected so that they can be strong. I would not have done that had I not been part of the support group because I always lived in denial. The projects we do also ensure I am self reliant economically which reduces stress," he said.
Theresa Muchovo, the projects manager at Yamurai, said they started working with 17 members from Gweru's Mtapa, Ascot and Mambo suburbs, but the number has now grown to over 200 people.
"When we started we had a lot of bed-ridden people infected by HIV. But through the work we are doing on counseling, health care and even the projects that we do, that has changed. A lot of the people were living in denial but they could not tolerate their conditions. They can now even open up about their status even to the media," she said.
Gweru town clerk, Elizabeth Gwatipedza acknowledged the work being done by Yamurai and said at the next Zimbabwe International Trade Fair edition, the local authority will give the organisation space at its exhibition stand to exhibit.
"We want them to spread the good news of their work to the world so that way a lot of lives can be saved. At the moment they are focused on one part of the city, but we want to make them spread their tentacles to all the parts of Gweru," she said.
Namibian-based HIV support group, Pot of Hope visited Yamurai recently to exchange notes. The group's director, Alexia Naris, said they will take a lot of lessons back to their country.
"It is appreciative to have a support group that actually consists of people living with HIV in which they talk freely about their lives and also inspire others who are outside the group. Towards the end of October we would like to invite some of the group members to Namibia to share with others their good work," she said.
Murari Hwingwiri, the Gweru district Aids co-ordinator with National Aids Council said Yamurai was doing "a great job in the fight against stigma and discrimination".