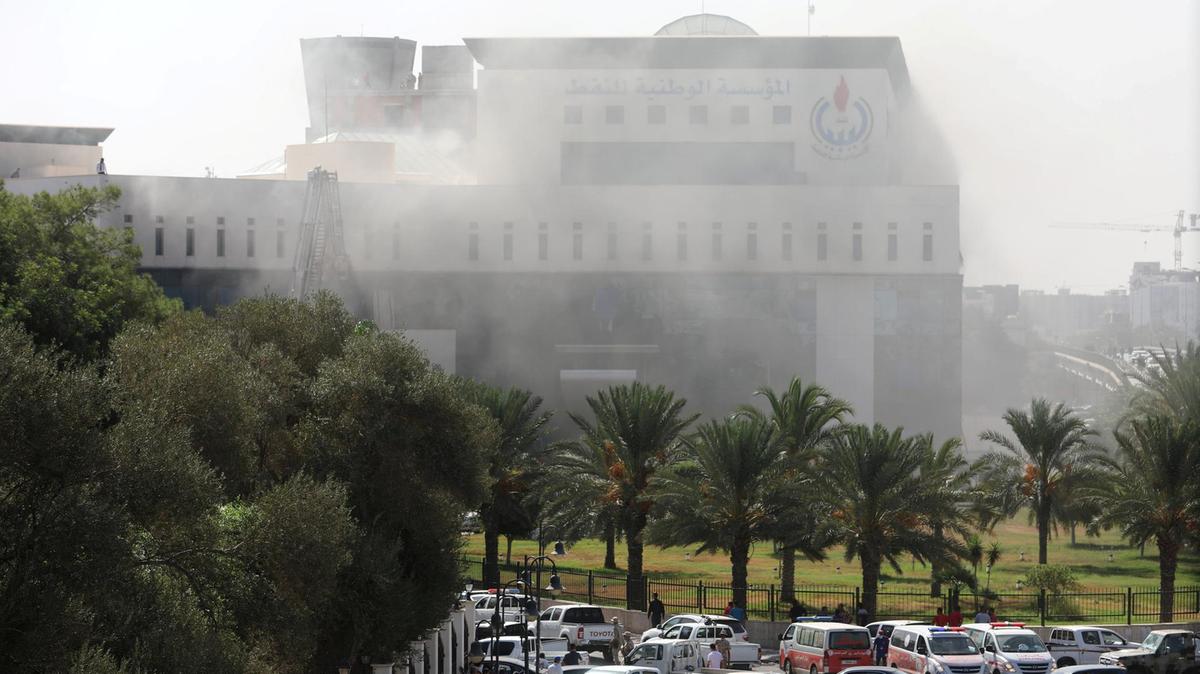 An armed group has stormed the Tripoli headquarters of the National Oil Corporation (NOC) in Libya.
Security forces clashed with the armed men at the landmark building in the centre of the city, and blasts and gunfire could be heard, witnesses say.
BBC
A security official at the site said at least two staff members and two gunmen have been killed in the attack.
Last week, the UN announced that a truce between warring militias had been agreed in the capital.
A UN-backed government is nominally in power in Tripoli but militias occupy much of the rest of the country.
A member of staff, who said he had jumped out of a window to flee, told Reuters news agency three or five gunmen were shooting inside the building and several people had been shot.
The NOC chairman, Mustafa Sanallah, has been safely evacuated, a witness quoted by Reuters added.
Rescue services are at the scene to treat the wounded coming out of the building.
"The death toll so far is two killed from NOC staff and two attackers," said Ahmad Ben Salim, spokesman for the Special Deterrence Force (Rada) force, according to Reuters.
It is not yet clear who carried out the attack.
Libya's oil sector, which is central to the economy, has been repeatedly disrupted by violence since long-time ruler Muammar Gaddafi was ousted in 2011.
Earlier this month, there were clashes between rival armed groups, and Tripoli has also seen occasional militant attacks.
The recent violence has forced thousands of people to flee to nearby towns or seek shelter in other parts of the capital, while many more remain trapped inside their homes.
In May, the Islamic State group claimed a deadly attack on the national election commission offices in the capital.
This attack will send shockwaves throughout Libya; not because it was unexpected, but rather for what it symbolises.
The NOC represents the core of what has kept Libya afloat over the last seven years of anarchic rule and prevented it from being branded as a failed state – it is the state's money-maker.
The National Oil Corporation in Tripoli is the only internationally recognized oil body – they have consistently been the only institution that is in control of global oil sales from the conflict-ridden country.
But like other government institutions, it has not been immune from the divisive, internal regional politics that has come to define Libya over the years.
It too has a parallel – but paralysed – rival in the East of the country. However, the head of the NOC, Mustafa Sanalla, who was rescued in today's attack, managed to find allies in armed groups where even the government has failed.
His relationship with East Libya's armed forces, which has had its ups and downs, has largely allowed the NOC to keep the oil and gas flowing from most parts of Libya despite the chaos and insecurities.