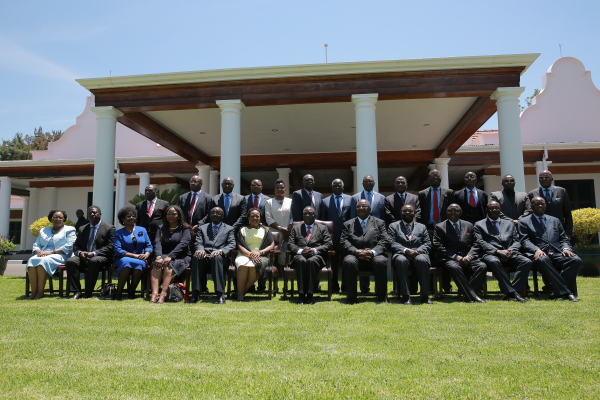 THE Cabinet appointed by President Emmerson Mnangagwa nearly a fortnight ago dubbed the "dream team" by government publicists, is a marked improvement from previous line-ups as it features characters likely capable of bringing in the much-awaited change in governance,though, because of some possible glitches, could end up being just an average team.
By Staff Reporter
Mnangagwa recently appointed a 20-member Cabinet fronted by renowned financial expert Mthuli Ncube, who was chief economist and vice-president of the African Development Bank (AfDB), as Finance minister and swimming sensation Kirsty Coventry, who was appointed Sports minister.
The two are perceived as brilliant appointments.
As chief economist of AfDB, Ncube, who distinguished himself in academia and the corporate world, oversaw the economics complex, which is focussed on the process of knowledge management within the bank and with its partners.
He also superintended over the general strategic economic research within the financial institution.
Coventry is a member of the International Olympic Committee athletes' commision and is widely acclaimed as Africa's best-ever Olympian, with seven medals.
The appointment of Joel Biggie Matiza as Transport minister has also been lauded as he is a relatively successful professional and businessperson in his own right, thus has the credentials to lead the ministry.
Mnangagwa dropped some senior members of his previous Cabinet, including Patrick Chinamasa, Obert Mpofu, Simbarashe Mumbegegwi and Simon Khaya Moyo, re-assigning them to work for the party on a full-time basis.
He also appointed Oppah Muchinguri-Kashiri as Defence minister, taking the portfolio away from Vice-President Constantino Chiwenga.
The Cabinet selection has been applauded in many quarters, with even opposition leaders like David Coltart adding to the chorus of approval.
"Brief comment on new Zim Cabinet — good that it is only 20, no Mpofu or Chinamasa, good Finance and Sports ministers in Ncube and Kirst Coventry," Coltart wrote on microblogging site Twitter.
However, despite the positive noises about the Cabinet, there are a number of appointments that have raised eyebrows.
Ministers such as Muchinguri-Kashiri and Sithembiso Nyoni have been part of previous Cabinets that failed.
"Prof Ncube, however, will do a good job as long as the politburo does not issue directives and reversals, or stand in his way."
Political analyst Dumisani Nkomo said although the Cabinet is well-balanced, the retention of some failed ministers was a major drawback.
"I think to be fair, it is a fairly balanced Cabinet," Nkomo said.
Analysts say although the new Cabinet is a mixture of youths, technocrats and experience, it also has appointments based on loyalty.