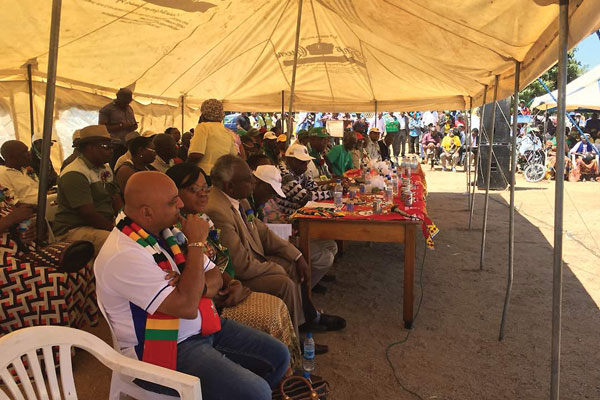 WAR veterans secretary-general and newly-appointed War Veterans deputy minister Victor Matemadanda has hailed President Emmerson Mnangagwa for dumping some of the long-serving ministers whom he described as wealthy politicians.
BY SHARON SIBINDI
He said the selection process was not easy for the President.
Addressing war veterans at Entumbane in Bulawayo on Saturday, Matemadanda said it was time for fresh minds in Cabinet.
"We need to thank the President on the new Cabinet. It was very difficult to put some of the people who were put in the Cabinet this time. To think of it, some of the 'wealthy people' were left behind, for that we must thank the President. Let's have new people who can make new mistakes and this he has done," he said.
Mnangagwa appointed a new Cabinet which saw new faces such as Mthuli Ncube (Finance minister) and the internationally-acclaimed athlete Kirsty Coventry (Youth, Sport ministry) getting in.
Some of the ministers who lost their portifolios include Obert Mpofu (Home Affairs), Supa Mandiwanzira (Information Communication Technology), Patrick Chinamasa (Finance), David Parirenyatwa (Health) and Simon Khaya Moyo (Energy), among others.
Matemadanda urged Zimbabweans to unite and work together for the development of the nation.
"There is a complaint that our offices in the ministry are not that welcoming, comrades. I have a list of people whom comrades are saying they would not want them to continue and I have briefed the President," he said.
"If the President gives us the office, saying it is for war vets and the officials at the end of the day do not want to see the war vets, this means that those offices have no use."
Matemadanda cautioned war veterans who look down upon their colleagues and challenged them to choose whether they still want to work for the comrades or leave the association.
"When we say comrades, we are talking about people who are poor, down trodden and if you are not prepared to work with these people, then you have no business in the office," he said. The remarks confirmed the divisions that have rocked the war veterans association.
"If there is anyone who is working with them, you tell them that I said they have two choices — to change within hours or leave us," he said.
Matemadanda said divisions in the war veterans body negatively impacted on the outcome of the July 30 elections.
"Every little opposition will want to have its war vets, so it is very important for us if we want this legacy to continue going ahead, to sit down and see where our differences are to iron them out. Let us engage and fix this issue because it is about the legacy of the revolution and make sure that we protect this legacy," he said.
The event want attended by Tshinga Dube, Raj Modi, Cephas Ncube, Christopher Sibanda, among others.