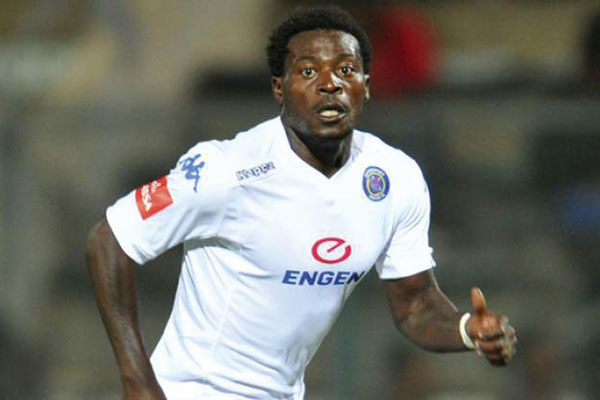 Dynamos . . . . . . . . . 0 Chapungu . . . . . . . . 0
EVEN when they are at home, Dynamos look like they are away. They were poor in passing, they could not keep possession and they lacked creativity.
BY TAWANDA TAFIRENYIKA
For a team that had been run over 3-0 by rivals Highlanders, this looked like it was an opportunity for them to respond, but they produced another lacklustre show, this time, before their home fans.
In the end, they got what they deserved — just a point.
There were a lot of expectations from their new recruit Kingstone Nkatha, who made his debut against Chapungu yesterday, but he too failed to impose himself on the match.
With the supply line dry, it didn't help matters.
The Glamour Boys failed to create meaningful chances throughout the match. Apart from a few flashes of brilliance from Denver Mukamba, they struggled for fluency.
It was Chapungu instead who looked like the home team with Clive Rupiya, who was being monitored by Warriors coach Sunday Chidzambga yesterday, combining well with Allan Tavarwisa as they terrorised the Dynamos defence.
Chapungu were unlucky not to kill off the match at the death when substitute Phillip Marufu' s header came off the cross bar following a Rupiya cross.
Dynamos, who continue to hover just above the drop zone with just 30 points, have failed to score in their last two matches, have left coach Lloyd Mutasa a worried man.
"I think we will take the point after suffering a defeat last week.
As a coach I had said we needed a response, but we didn't get what we expected.
It's worrisome, but defensively we were solid. It's only the attack where we were found wanting.
It's an area we need to address going forward.
Nkatha being his first match, did well in the first half and it looked like we would score.
But in the second half they pumped the ball forward to him in a rush and in most cases the balls were too high for him," Mutasa said.
Chapungu coach Rodwell Dhlakama was happy with the point, but bemoaned the opportunity they missed towards the end.
"It was a difficult game. I am happy with the point away from home.
I can't fault the players, they did well and we could have killed off the match in the last quarter when the ball hit the cross bar," he said.
The point was also vital for Chapungu, who are fighting to steer clear of the relegation zone as they sit just one point above the dangerous area.
Dynamos: S Chinani, P Dube, M Machazane, P Makaha (G Mukambi 30′), J Tigere, J Marufu, K Kumwala ( P Mutasa 79′),G Saunyama, D Mukamba, B Amidu,(Q Kangadzi 63′), K Nkatha Chapungu: T Shumba, E Chitauro, C Kwaramba, B Mbavarira, M Muchingami, I Nyoni, (X Ncube 74′),J Jam. A Tavarwisa, ( P Marufu 57′), C Rupiya, R Manuvire (M Mavhuto 63′), H Mugoniwa