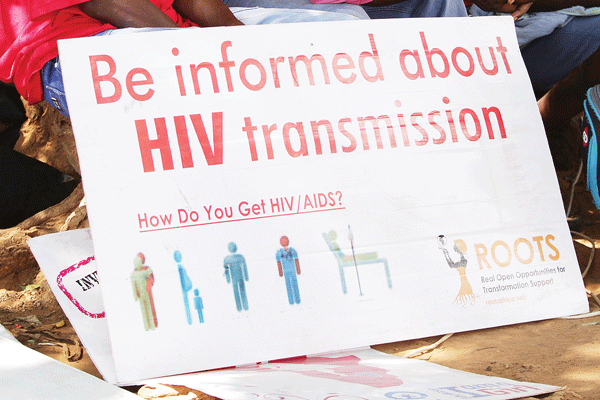 HURUNGWE — Thirty-year-old Chenai Murimbika of Dunzvambeva village under Chief Kazangarare, 60km north of Karoi, looks older than her age.
BY NHAU MANGIRAZI
She has endured untold suffering, marked by stigmatisation coupled with food shortages haunting her family as they have been living from hand to mouth within the rural community here.
To complicate her status, she is HIV positive and blind, conditions that negatively affect her relatives and neighbours. This is a tall order for several women suffering in silence not only in Zimbabwe, but across the world.
Accessing anti-retroviral (ART) drugs is a challenge for many people living with disabilities around rural communities in the country, according to Barbra Nyangairi, executive director of Deaf Trust Zimbabwe (DTZ).
She said basic health care was a "challenge for the disabled community".
"The deaf do not have sign language interpreters at health centres. Sexual and reproductive health is private, yet many do not have accurate information of what is being said during counselling and testing," Nyangairi said.
She said it was important to create systems that allowed universal access to healthcare information by persons with disabilities.
"Importantly, most disabled people were not aware of the reproductive health rights, a factor that puts them at risk of infection, confirming their exclusion from the reproductive health programmes," Rusike said.
However, Nyangairi said instructions for use of condoms have never been distributed in braille for people with visual impairments.
"No attempts have been made to advertise condoms in sign language for those with hearing difficulties. There is a popular belief that people with disabilities have no sex lives and, therefore, are not at risk of contracting HIV. People with disabilities are sexually active. Some men fear to be stigmatised that they have affairs with disabled women so they tend to have sexual affairs in private and dump the women," she said.
Nyangairi said in many cases, disabled people had no access to sufficient sex education to protect themselves.
"It is a lifetime challenge until government and other stakeholders take a lead to rectify," she said.
"We are working closely for advocacy on HIV matters on the disabled so that they are given basic rights on health matters like everyone else."
Rusike said there was need to move forward in different communities so that the disabled were assisted.
"This is a national cause that needs everyone to give a hand and help those living with disabilities, as the impact of HIV and Aids is a major concern," he said.
Community Working Group on Health executive director Itai Rusike noted that disabled women often struggled to make ends meet.
"Socially, you find able-bodied men taking advantage of disabled women. Some women resort to using their bodies for transactional sex and this increases their risk of HIV infection. The government grant to help people with disabilities is very little," he said.
Rusike explained that vulnerability of the disabled to HIV infection was worsened by poverty among women acting as breadwinners.
"People with disabilities are among the most marginalised members of the community and every major risk factor linked to infection is also present in the disabled populations, as some are illiterate and unemployed," he said.
Nyangairi said they had lost a number of deaf persons to HIV-related illnesses.
"Some break their tablet (anti-retroviral pill) into two to delay the time of going back, while others default when they feel better. No one explained that they need the medicine for a lifetime during counselling, testing and treatment. Communication barriers are a major cause of misunderstanding," she said.
"Service providers continue to exhibit a negative attitude towards persons with disabilities when they seek treatment, especially sexual and reproductive health services."
Nyangairi clarified that HIV and Aids remained problematic when persons with disabilities were treated as children. "Access to information remains a challenge because of negative attitudes," she said.
Nyangairi said several women were victims of sexual harassment and that included the disabled.
"Deaf girls and women suffer in silence because perpetrators get away with it," she said. "This is due to language barriers and the fact that statistics are not available as a significant number of cases fail through due to lack of evidence. Furthermore, reports are done late and without credible evidence."
Hurungwe-based chairperson of Seka Urema Wafa, Makisi Kofi, blamed government officials who sideline their membership during food aid distribution for the vulnerable.
"Some social welfare officers are not concerned about the disabled who are facing acute food shortages. They suffer in silence," he said.
A welfare officer, who declined to be named for professional reasons, confirmed that there had been challenges around food aid distribution.
"We have received complaints of biased food distribution where politicians have hijacked the programme though we are against it. At times we have educated politicians, but our calls fall on deaf ears," he said.
National Aids Council (Nac) communications manager Madeline Dube said food issues were vital in HIV management, but added that these did not fall under Nac's mandate. "The government works with several stakeholders in that regard. As Nac, we are coordinating access of ART to everyone who is infected as a primary role," Dube said.
A Hurungwe-based nurse involved with HIV and Aids programmes added that those infected and living with disability were getting a raw deal.
"Those infected by HIV and Aids need a well-balanced diet, which they find difficult to access," said the nurse.
For Murimbika and several women suffering in silence, the impact of HIV and Aids among those living with disabilities remains a sad reality and part of life in Hurungwe.