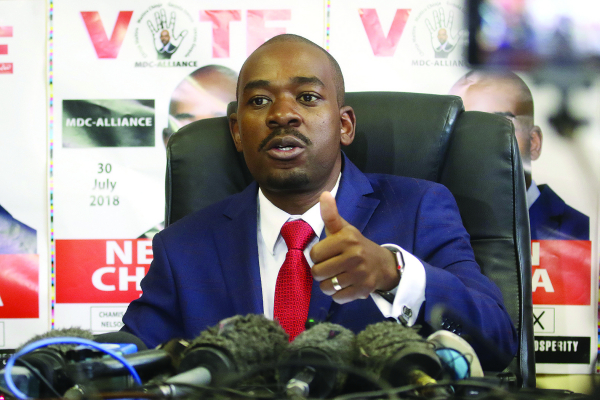 OPPOSITION MDC Alliance leader Nelson Chamisa has called on President Emmerson Mnangagwa to "come to the negotiating table" or face the real prospect of driving the country down the abyss.
BY RICHARD CHIDZA
In an interview with NewsDay yesterday, Chamisa, who came close to upstaging Mnangagwa in presidential elections two months ago, losing by just over 6% of the total votes after the Zanu PF leader was declared winner with a slim 50,67%, said while his party was girding for "peaceful protests", he still believes his nemesis should engage him to avert a national crisis.
"You have heard that we are consulting our supporters in order to roll out a programme of peaceful protests as part of efforts to nudge Zanu PF towards the negotiating table, but we believe this is a very unnecessary exercise," he said.
"We have a wounded nation. We are leading a divided nation, a people divided in every facet of life from the church to family. Our country needs healing and President Mnangagwa must understand that the idea of a political zero-sum game will not help anyone. Our country needs dialogue," Chamisa said.
The youthful opposition leader challenged Mnangagwa's victory at the Constitutional Court, arguing that the Zimbabwe Electoral Commission had connived with the ruling party to rig the July 30 poll in the Zanu PF leader's favour, but the country's highest court threw out his petition for lack of merit.
However, Chamisa has insisted he won the presidential election and has challenged dozens of results won by Zanu PF in the legislative polls. Yesterday the MDC leader said he was ready to talk and had five points of departure.
"Dialogue is a national necessity. I must warn Zanu PF and Mnangagwa that the zero-sum game will not work. Our country needs legitimacy, we need time-bound comprehensive reforms, peace building, nation building and national healing around human rights, international engagement to rid ourselves of the pariah tag, as well as an emergency economic rescue package.
"Our people are suffering and once we are agreed on all this, we can take this to the international community and say this is what we are going to do as Zimbabweans. This could help open up lines of credit, increase international confidence in the country and allow for the removal of such things as Zidera (the Zimbabwe Democracy and Economic Recovery Act)," Chamisa said.
But the government yesterday scoffed at Chamisa's proposal, with Information deputy minister Energy Mutodi saying Mnangagwa will not "waste time" negotiating with the opposition.
"The country does not move on the basis of dialogue between winners and losers, rather it moves because the institutions of the State are in place. I can tell you these are already in place and working. The President recently appointed his Cabinet that will help him formulate and implement government policy over the next five years.
"He doesn't need legitimacy from a losing presidential candidate. Chamisa is only one of 22 candidates who lost in the election. He is desperate for a Government of National Unity (GNU) kind of arrangement, but the President is on record saying it is not necessary at the moment. President Mnangagwa is busy running the country, he has respect for the opposition, but honestly, he has no time to waste," Mutodi said.
Mutodi said Chamisa should use his party's legislative representation to push for reforms.
The Donald Trump-led United States government enacted Zidera in 2003 to force then President Robert Mugabe to reform and respect human rights.
A few months ago, the law was amended to add signposts that Mnangagwa's administration must meet before the sanctions are removed.
Foreign Affairs minister Sibusiso Moyo last week indicated the amendment was a "step in the right direction" and Zimbabwe will continue to engage the US in order to have the restrictive measures removed.
Chamisa called for help at home and abroad to bring the political protagonists to the negotiating table.
"I am calling on the international community and the church to help resolve the political crisis. I am not saying Mnangagwa must hand over power to me right away, but I am saying he cannot ignore a party that has 112 representatives in the legislature, controls 81% of all urban local authorities, challenging the result of the presidential election as well as the two-thirds majority claimed by Zanu PF," the opposition leader said, arguing talk of a GNU was premature.
"There has to be a discussion on the fundamental issues affecting Zimbabwe. The idea of a Government of National Unity should be a result of dialogue. Any talk of this now will be a case of putting the cart before the horse."
Zimbabwe's economic and social problems seem to have deepened after the disputed election exacerbated by a devastating cholera outbreak.