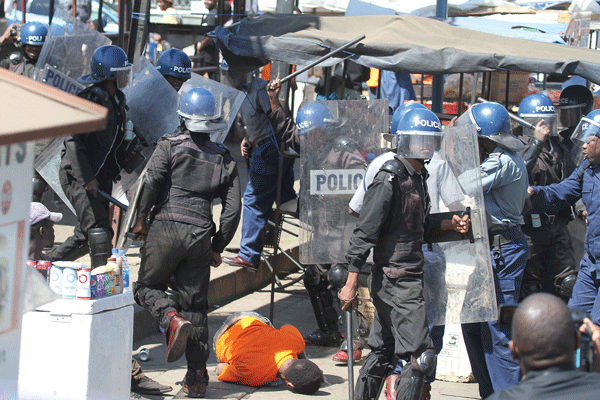 VIOLENCE rocked Harare yesterday as police and vendors fought running battles as informal traders resisted efforts by government and council to remove them from the central business district as part of measures to control the spread of cholera.
BY KUDZAI MUCHENJEKWA/ BLESSED MHLANGA
Harare is at the epicentre of the cholera outbreak that has so far killed 32 people and affected more than 7 000 others and authorities fear unregulated trade could spread the disease.
Police tasked with evicting the street traders had to call for reinforcement as vendors fought back with stones, pushing back attempts to raid their vending stalls and wares by council and uniformed members of the Zimbabwe Republic police.
The battles forced many shop owners to close as police took to their heels or sped away in their vehicles.
Some buildings were damaged, along with the police post along First Street. The fight ended when police retaliated by firing teargas at the charging vendors who were vowing to stay put until they are given jobs.
The battle started when an initial police raid in the morning was resisted by vendors who refused to move out of the CBD, and fought back with stones, forcing the officers to call in reinforcements.
"The police at first came on foot and they were not that many and they were taking the vendors' belongings. However, this did not turn out well as the vendors started resisting. This turned into violence with stones being thrown at the police officers who took to their heels before calling for reinforcements," said Joseph Matinanga, a construction worker who witnessed the battles.
Harare East legislator Tendai Biti (MDC Alliance) slammed the violence, accusing the police of using excessive force to drive out "economic prisoners" from the streets where they earn a living.
"The brutality and heavy-handedness with which the police and the junta are currently meting out to vendors in Harare's CBD is completely unlawful and unacceptable. This country has quickly descended to a banana republic run on fear and coercion. We reject the barbarism," he said.
Vendors said the latest crackdown on them had nothing to do with the cholera outbreak, but was a political retribution after the ruling Zanu PF party failed to win a single seat in the capital.
"Cholera started in Glen View not because of vendors, but because of the poor water and sewer reticulation system. Instead of addressing those issues they want to come and fight us here. We are victims of politics. They think because in the urban areas we voted the MDC [Alliance] we must be flushed out. This will not happen," said Sylvia Mutando, a vendor.
Another vendor who refused to be named said she was prepared to fight the police daily because she had no other option of fending for her family. She said being pushed out of the streets could force her into crime.
"They should go and clean Mbare which is dirty. The fuel they are using on us should be used on refuse compactors instead of fighting vendors who have been sustaining this economy," she said.
Police spokesperson Senior Assistant Commissioner Charity Charamba confirmed the attacks on the police and warned vendors that they will face the music.
"The police would like to warn vendors who are resisting and attacking police officers and other law enforcement agents while performing their lawful duties. The police are simply assisting local authorities to clear vendors in view of the cholera outbreak," she said.
Charamba said the attacks on the police were needless and that action against the vendors will continue.
"The attacks on law enforcement agents are needless and uncalled for. The police will not allow such conduct or lawlessness to continue, we wish to state that action will be taken against such individuals," she said.
Mayor Herbert Gomba distanced council from the clashes saying it was between police and the vendors.
"You see it's ZRP versus vendors so you will have to talk to Charity Charamba to give you details. We do not want violence with vendors. What we want is for them to come and sit down with us so that we work together," Gomba said.
"I have heard the reports of violence and that some people were injured. That's unfortunate; council wants to work in an orderly manner with vendors."
The clashes came after a 24-hour ultimatum issued on Saturday by Harare City Council and the National Vendors' Union of Zimbabwe leader Sten Zvorwadza for vendors to move from all undesignated sites.
Vendors were left counting their losses following the raid and the streets were littered with all kinds of wares from bananas to apples alongside the stones that had been used to fight back the police.