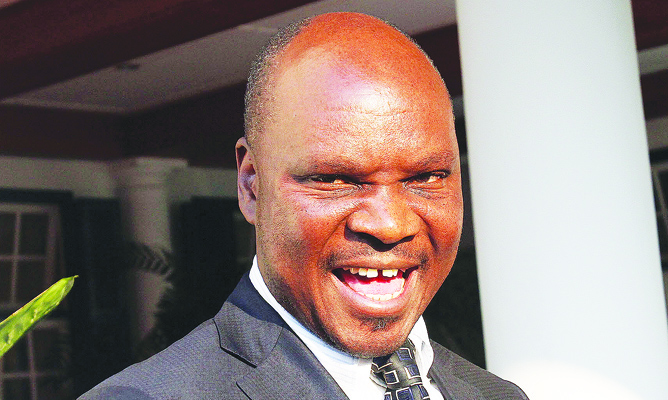 Former Mines and Mining Development minister Walter Chidakwa's lawyer, Advocate Silvester Hashiti, yesterday filed a notice to challenge the special anti-corruption investigation unit, arguing that one of its members was conflicted.
BY DESMOND CHINGARANDE
Hashiti told magistrate Hosea Mujaya that on the next remand date, they would apply for the recusal of the unit members, as former Mines secretary Francis Gudyanga, who is being charged together with Chidhakwa for criminal abuse of office, is represented by Tafadzwa Muvhami from Macharaga and Mugiya law firm.
Zivanai Macharaga was incorporated into the special anti-corruption unit by the Office of the President which is prosecuting all corruption matters, but his partners in the law firm are also representing the accused persons.
Hashiti said it would be a clash of interests if the matter proceeded without considering the facts.
Last week, Hashiti filed a similar application before magistrate Estere Chivasa while representing Chidakwa in another matter of criminal abuse of office and fraud, saying Macharaga was conflicted.
Magistrate Mujaya postponed the trial to October 4.
Allegations are that in May 2015, Gudyanga, in his capacity as Mines ministry secretary, received appeal correspondence from Ronald Mugangavari.
Mugangavari was allegedly appealing against a determination by the provincial mining commissioners for Masvingo and Midlands only identified as C Phiri and Tapererwa Noel Paskwavaviri.
The State alleges the appeal was in connection with a mine ownership dispute between Herbert Hwekwete and Mugangavari.
It is alleged Chidakwa and Gudyanga, knowing that they did not have jurisdiction to deal with such an appeal, went on to nullify the determination made by Phiri and Paskwavaviri, thereby showing favour to Mugangavari.
The State is arguing that the Mines and Mining Act stipulates that appeals against a determination by a mining commissioner is handled by the High Court.
It is alleged Gudyanga's unlawful decision resulted in Mugangavari returning to the mine where he conducted mining activities.
The State alleges on July 4 last year, Mugangavari allegedly shot and injured Hwekwete and his cousin Robert.
The shooting allegedly took place after the two victims had visited the mine at the centre of the dispute.
Mugangavari allegedly continued to deny the rightful owners of the mine access to the mine basing on the determination of Chidhakwa and Gudyanga.