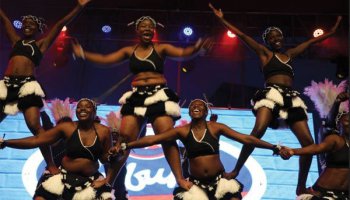 GWANDA-BASED Balomba performing arts outshined nine other groups to pocket $1 000 as the inaugural champions of Ingwebu Breweries cultural dance festival at White City Stadium in Bulawayo on Saturday.
BY SINDISO DUBE
For their efforts, the Matabeleland South representatives pocket $1 000 cash prize, while Matabeleland North's Simunye Arts came out second and walked away $750 richer.
Mbada arts ensemble, who represented Midlands province, received $500 for coming out third.
Ingwebu Breweries sales, marketing and corporate affairs executive Ndabezinhle Mlilo told NewsDay Life & Style that they would continue celebrating cultural practices through their brand.
"We will continue to support the arts through the brand Ingwebu; we are placing importance on oral tradition which is the passage of traditional practices from one generation to another.
We would like to continue celebrating and embracing the rich culture in the market we operate in, which is Midlands, Matabeleland North, South and Bulawayo," he said.
"We congratulate the winners of the competition and we hail the participation of the competitors and also the fans who have been attending the provincial finals and also the grand finale."
Mlilo said the cultural dance festival would be an annual event.
"The festival will be an annual event and next year we will be introducing more genres such as poetry and other forms of art.
We promise a bigger and better festival next year," he said.
The wining group (Bolamba), that was formed in 2009 in Kafusi area of Gwanda South under Chief Mathe, has 14 members aged between 18 and 50 years.
The group that specialises in Sotho or Birwa music also performs at weddings and public platforms.