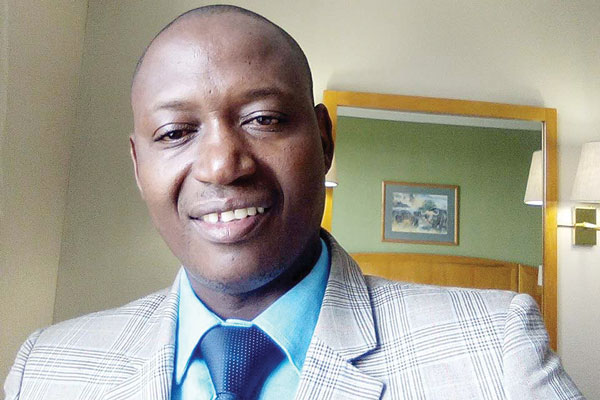 NEWLY-appointed Agriculture deputy minister Douglas Karoro says he will support Agriculture minister Perrance Shiri in all his programmes to ensure that Zimbabwe becomes the food breadbasket of Southern Africa again. Karoro said he would ensure that every Zimbabwean, regardless of their political affiliation, gets access to agricultural inputs because the most important thing right now was to develop the agricultural sector to boost Zimbabwe's economy. Karoro (DK) opened up on issues of his humble beginnings to NewsDay senior Parliamentary reporter Veneranda Langa (ND). The following are excerpts of the interview:
INTERVIEW: Veneranda Langa
ND: Who is Karoro?
DK: I am 46 years old and I grew up in Mbire (Mashonaland West province), where I did my primary education. I then went to Mavhuradona High School in Mt Darwin, where I did my secondary education up to "A" Level.
My beginnings were humble in that I first did temporary teaching before I enrolled at Seke Teachers' College to do teacher training.
After graduating, I only taught for three years, and upgraded my education and attained a Bachelor of Science Degree in Agriculture from the Zimbabwe Open University.
I then went into the agriculture sector, where I worked for non-governmental organisations like Oxfam and the World Food Programme, and I gained a lot of experience in agricultural issues. I am also MP for Mbire constituency.
ND: So did you know that you would be appointed deputy minister?
DK: No, the appointment actually came as a big surprise to me. I was not expecting it. I thought that there were other very experienced people in Parliament for the position, but I am a person who was doing a lot of work on the ground and was very visible in Mbire and at provincial level in Mashonaland Central, where the leaders were very happy about my work. I really was not expecting to be appointed Agriculture deputy minister.
In fact, on the day that I was appointed, I was in ward 8 at Shirunya in Mbire, where I was busy constructing a bridge. I was actually wearing a worksuit and we were carrying stones from the mountains for the bridge.
A friend of mine phoned me, congratulating me for being appointed Agriculture deputy minister and I cut the phone saying that I was very busy because I did not believe him.
I ended up believing it when former Harare North MP Tongesai Mudambo and several other people later phoned to congratulate me.
ND: Are you now ready to take up the post?
DK: Yes, I am very ready for the task — I can do it. I will do my best to add value to the agricultural sector in Zimbabwe. I have always had a passion for agriculture.
ND: There are some that allege that some of you MPs got ministerial posts because of bootlicking President Emmerson Mnangagwa. Were you one of those bootlickers?
DK: It is not true that we got the positions through bootlicking. Actually, I am a good example of being chosen because I am a person of substance, rather than being a bootlicker.
I never even tried to get close to the President to solicit for a ministerial post. Actually, I never did any form of lobbying at all.
The ministers in the new Cabinet were chosen on merit and hard work and not because they are bootlickers.
ND: What do you want to achieve as Agriculture deputy minister?
DK: I promise to work with everyone in the agricultural sector without looking at their political affiliation. I definitely will support all programmes that have already been spearheaded by Agriculture minister.
These programmes need not only my support as the deputy minister, but they need everyone across the political divide to work together to make Zimbabwe an agricultural giant again.
We need to bury our differences and work together to boost the country's agricultural sector.
In my tour of duty, I will ensure that agricultural inputs are distributed to everyone who is passionate about farming.
I will not look at the political affiliation of any farmer because everyone belongs to Zimbabwe. I strongly feel that people should not be discriminated on political party lines.