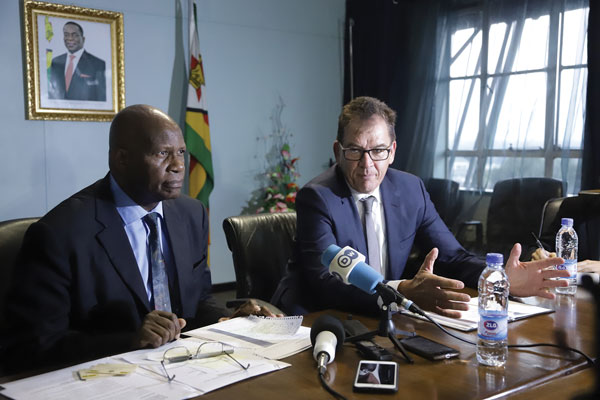 GERMANY believes that President Emmerson Mnangagwa's government marks a new beginning for Zimbabwe and is eager to explore areas of economic cooperation with the country.
BY FIDELITY MHLANGA
Gerd Muller, Germany's Minister of Economic Cooperation and Development, addressed a joint press conference with Patrick Chinamasa, Zimbabwe's Finance Minister, in Harare on Tuesday and announced that the two countries had agreed to set up a joint commission to identify areas of co-operation focused on promoting economic development.
Müller is the first minister from Europe's largest economy to visit Zimbabwe in 20 years.
Muller said Germany believed the new government of President Emmerson Mnangagwa would uphold the rule of law and pass friendly policies.
"Germany and Europe have great interest on stability and peace in this country that is why we are building on the implementation of reforms and we will support the government of Zimbabwe especially to implement measures that will improve the situation for people in rural areas that will benefit agriculture," Muller said.
The envisaged joint commission would work together with the government of Zimbabwe on actions to improve investment flows and co-operation; implementation of reforms and improvement of vocational training in the country.
"We want to do something to improve investment and do more in co-operation in the field of technical and vocational co-operation to benefit the young generation in the country. We have suggested and agreed on launching a joint commission which we want to discuss on what steps to make to promote economic development and take the country forward," Muller said.
During President Robert Mugabe's era which ended on November 17, 2017, Zimbabwe was classified among the world's most highly fragile states on account of the collapse in rule of law, political instability, institutional decay, suppression of civic rights and freedoms, high levels of corruption and government's failure to provide infrastructure and social services.
Mnangagwa has promised that his government would carry out reforms to address all fundamental concerns.
Chinamasa said the joint commission would set a foundation for the reopening of lines of credit from Germany.
"We have discussed re-engagement, the need to deepen re-engagement and we agreed we should intensify re-engagement," Chinamasa said.
"We also discussed the need for Zimbabwe to create jobs. In other words, we want to expand and incorporate vocational training colleges. We also discussed lines of credit.
Germany used to be the major source of our lines of credit until the sanctions were imposed. This is a matter that we have also discussed to see if we can revisit the issue.
"This has culminated in the agreement that we start a joint commission between the Federal Republic of Germany and Zimbabwe. The sooner it meets the happier Zimbabwe will be.
"We need to explore areas of cooperation in many areas we have discussed. This something we are going to pursue vigorously."