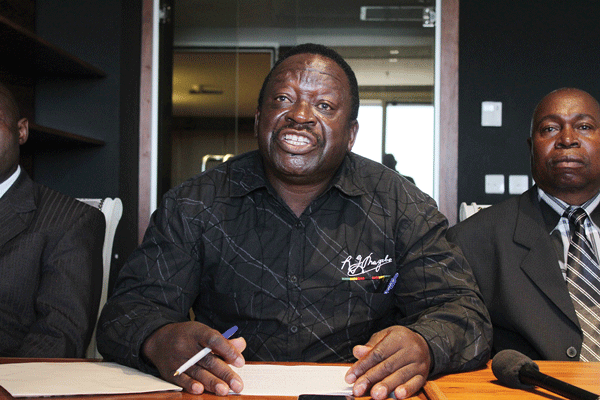 WAR veterans have put on hold plans to demonstrate against former President Robert Mugabe, demanding that the re-naming of the country's foremost international airport after him be reversed.
BY RICHARD CHIDZA
Formerly Harare International Airport, but renamed after the former Zanu PF leader just before the military intervention that triggered his removal last year amid pomp and fanfare, has now become a subject of disputation.
Zimbabwe National Liberation War Veterans' Association (ZNLWVA) secretary-general Victor Matemadanda said his group was giving time to the Constitutional Court (ConCourt) proceedings as well as allowing their members from across the country to sign a petition to push the demand.
"The protest will go on, but we want to give a chance to the ConCourt proceedings. Once this process is finished, we will sit and make a determination on when and what time we will send the petition.
"We have also had representations from our members as far as Plumtree, who want to sign the petition so we would want to give them time to be part of the process," Matemadanda said.
The ConCourt yesterday opened a hearing into a petition lodged by opposition leader Nelson Chamisa, demanding that the result of last month's presidential poll be overturned.
On Tuesday, Matemadanda, flanked by other leaders of the association, described Mugabe as a "political abortionist".
"Tomorrow (yesterday), we are going to demand the removal of Robert Mugabe's name from the international airport in Harare.
"Mugabe has failed. We cannot have the face of Zimbabwe to the world being given the name of a last-minute traitor," Matemadanda said.
Mugabe's birthday, which falls on February 21, was also declared a national holiday, celebrated for the first time this year.
The war veterans seemed to have been angered by Mugabe's decision to throw his weight behind Chamisa's presidential candidature on the eve of last month's do-or-die election.
Mugabe argued: "I cannot vote for Zanu PF. I cannot vote for the same people who are responsible for my situation."
Mugabe was forced out of power last November after the army stormed key State institutions, placed the then Zanu PF leader under house arrest, triggering a double-edged process by Parliament and the ruling party to oust him, leading to the change of guard.
As the Zanu PF internal power struggles exploded into an open fight, President-elect Emmerson Mnangagwa, who was at the time serving as Vice-President, but had been fired two weeks earlier, was allowed to return and assume the reins.
For years, war veterans have been used by the ruling party as political storm-troopers, but in the Zanu PF internal power matrix, they threw their weight behind Mnangagwa against a faction that seemed to have had Mugabe's blessing and led by then First Lady Grace.
Mugabe reacted by expelling the leadership of the ex-fighters before the November 2017 meltdown.