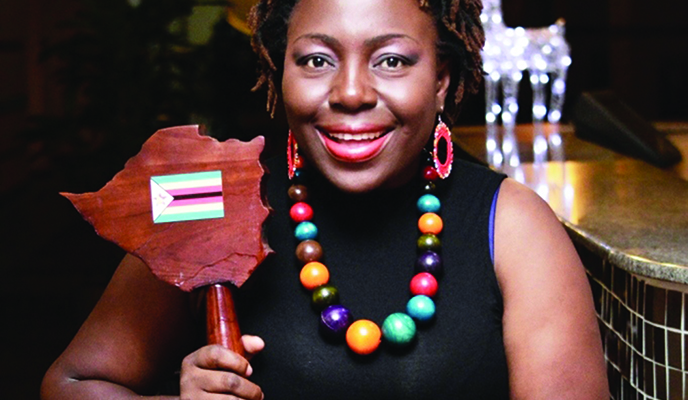 I WOULD start by congratulating our newly sworn-in President Emmerson Mnangagwa. The progressive people of Zimbabwe who have suffered for decades support the constitutional decision to declare him as President and are desperate for our country to move on. The children, youths and women have suffered enough. As a fellow Zimbabwean, I wish Mnangagwa well as he sets out to deliver his promises to our dear nation. As he starts his five- year term in office, I have a few urgent requests to make:
Guest column: Nyaradzo Mashayamombe
 A female Vice-President: 54% of voters were female Mr President, it goes without question that Section 56 of our Constitution requires that we have equal representation in our country. A new dawn for Zimbabwean women must not be postponed, it begins now and with the appointment of a female vice-president of the country (not just in Zanu PF politburo), but as part of the Presidium. Women went to war, they are educated, they marched on November 18, 2017 they were prepared to contribute to the former President Robert Mugabe's impeachment in November, they are in Zanu PF and qualify in any form under the criterion of presidency, they have been part of politics and development since time immemorial, they are serving in the party and in our country, therefore there can never be any possible or acceptable excuse to have three men representing 48% of a population while 52% are not represented.
Mnangagwa is a man who understands law. During his inauguration, he said he was a listening President, therefore we expect him to listen to the women's call. We need a female representative in the presidium right away.
 The new Cabinet: We need equal representation in the coming Cabinet Mr President as women and youths. For Zimbabwe to move forward it requires the capable sharp brains of women, youths and even the opposition. There are enough women and youths in Zanu PF, MDC Alliance and even outside Parliament.
Diversity and inclusiveness are at the core of democracy. We know the President is allowed to pick five people outside Parliament into his Cabinet, we are hoping he will tap into great brains in our country. Women, men, youths in business, academia, civil society can make this country great again.
 Urgent access to education for all children: From December 14 when we believed a new dispensation had come, we started communicating with the Ministry of Primary and Secondary Education, as well as with Mnangagwa's office that a policy/circular be released to allow the more than 27% children who are being denied access to education because of lack of fees and levies, to be enrolled in public schools while their parents negotiate payment plans. The call is based upon the responsibility of the government to ensure basic education as enshrined in Section 75 of our Constitution to ensure every child is in school. Through our #EveryChildInSchool Campaign, Primary and Secondary Education minister Paul Mavima had promised to look into the issue, but it's more than six months and there has been no action. Where is the servant leadership and responsiveness to citizens Mnangagwa promised? We also suggested the creation of an Education Fund to benefit these vulnerable children. We have communicated with his office and the Ministry of Education.
The circular must be released now without delay.
 Zimbabwe is open for business: This is a position that we think will take our country to greater heights as we promote investments from other countries and create jobs.
While we want jobs as soon as possible and to build our infrastructure to world class standards, this should not promote exploitation of our resources and create a fertile environment for looting and corruption. There must be mechanisms to make all international deals as transparent as possible.
It is in the best interest of the country to know what is going on, it is in the best interest of the country to know that we are not exploiting this country and running it down for a bowl of soup like the biblical Esau. All information on investment deals must be accessed by everyone because Zimbabwe belongs to all its citizens.
By so doing, we will be removing grounds for breeding corruption and ensure good governance and accountability. We will also ensure good utilisation of the proceeds from the deals for the advancement and development of our country.
 Sanctions must go! The Zimbabwe Democratic Recovery Act passed by the United States should be repealed as soon, because the country deserves a fresh start. Mr President, you must know that many progressive Zimbabweans are supporting you in asking for sanctions to go.
As a developmental and human rights activist as well as a businesswoman myself, I have seen the scourge that sanctions place on the poor, the women and youths and the opportunities to move our country forward. We must speak together for our country to develop.
While we join the country in this important chorus, we emphasise the need for transparency in national processes. No more shall we hear of grabbing of land by those in power for self-enrichment. The world must see us seriously dealing with issues that have tarnished our reputation in the past such as corruption.
 Social protection of women, children and elderly: It is true that one can see the development and progressiveness of a country in the manner in which the government treats women and children. The social services system went down the drain a long time ago. The vulnerabilities that women, children and the elderly in our communities suffer should be revealed to us as it is a sin before God. There is urgent need to restore services such as social welfare, hospitals, clinics and the justice system and make them more women friendly.
We need urgent improvement in water and sanitation and provision of free sanitary wear for girls among other things. Women and all victims of abuse must find recourse and justice immediately. More still needs to be done to prevent gender-based violence against women.
 Unity in our country: This country is fragmented, is bleeding and needs healing. Calls that started last year with regards to national healing will remain rhetoric if we do not stop wasting limited resources on talkshows that yield nothing. The healing and reconciliation processes must be completed to avoid wasting of resources. Participation in the healing process must be free, and confidentiality must be guaranteed to avoid censoring and gagging divergent views. This process is critical for our country to move forward. We wish to see Mnangagwa lead us in unity and invite opposition parties to be part of his government. We expect the opposition to reciprocate the gesture as a sign of leadership.
 Media reform: It is without doubt that the issue of media reforms has been raised many times in our country. The national broadcaster, ZBC television and radio, as well as State media require a new policy that promotes more tolerance, openness, freedom of speech and equal coverage for all for all. This will not happen without a clear process of staff training, enactment of a new policy in the ZBC led by the President's Office. The culture in all these media platforms will require Mnangagwa's leadership to change as we move forward to total democracy.
As such, new radio stations, licences for new radio and television stations must not be awarded according to party affiliation, but must be accessible to all citizens or even those in the opposition. We cannot grow our country without opening the airwaves and revamping the State media.
 Respect for freedoms and human rights: The civil society in our country has contributed immensely to the attainment of democracy, human rights and freedoms, and we have also seen gross abuses of human rights. A new Zimbabwe should guarantee freedom of association, respect for human rights, the rule of law by the State and respect for the civil society.
During Mugabe's reign, civil society work was gagged. We want to see respect for the civil society that partners with the government, community and other development practitioners freely, exercising their rights and responsibilities without fear of harassment by the State agents. Citizens must have the right to freely associate with whomever they want.
Zimbabwe must remain and strengthen its ties with the outside world and increase its expenditure on protection of citizens rights by abiding with international and regional conventions and laws that respect fundamental freedoms and human rights.
Human and women's rights must be protected and the government should lead in promoting these rights for all other sectors to follow suit. Government departments must protect rather than abuse human rights as we have seen with the Harare City Council that sits and watches while poor citizens build illegal structures, only to come later and destroy them. Government and public offices must deliver and not sleep on the job.
 Labour justice and economic justice for masses: We have women and men in some parastatals like the National Railways of Zimbabwe who have not been paid their salaries for years and this must be corrected as soon as possible. The government must lead by example in restoring the dignity of workers.
Youths are vending and the majority have no idea of what professionalism is as they have not held formal jobs since they graduated. Efforts must be taken by the government to ensure that jobs are availed, and small to medium entrepreneurs access resources and opportunities fairly. While we want to see restoration of cleanliness and order in Harare Central Business District and all cities, there must be a clear plan to avail strategic trading areas for vendors.