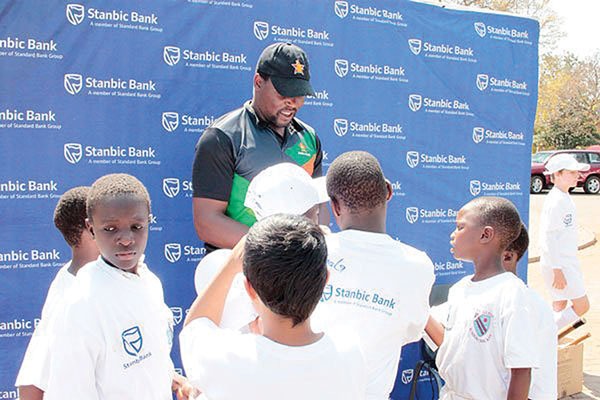 The popular week-long fiesta of budding cricketers, the Stanbic Stragglers tournament, exploded into life at St George's College and Hartmann House yesterday.
BY Sports Reporter
Over 200 boys aged between nine and 12 are set to enjoy five days of non-stop cricket courtesy of a partnership between Stragglers Cricket Club and leading financial services institution, Stanbic Bank.
Some of the country's top cricketers that include among others former national team captain Elton Chigumbura, P J Moor, Hamilton Masakadza and Craig Ervine also came through the Stragglers festival.
The week-long cricket showcase ensures that the budding stars sharpen their skills under the watchful eyes of professional coaches as well as current and former national team players.
Yesterday, Masakadza graced the occasion, with Moor and Ervine expected to be part of the proceedings today.
Stanbic Bank has been sponsoring Stragglers Cricket Festival since 2006 as part of its commitment to contribute to the well-being of the communities in which it operates.
Stanbic Bank Zimbabwe head of marketing and communications Palmer Mugavha said the institution's marriage with Stragglers is rewarding in so many ways as it not only helps young boys to relax during the school holidays, but contributes significantly to the scouting of young cricket talent.
He said it was a source of encouragement to see the energy and commitment the young cricketers bring to the table.
"Every year, we are encouraged to continue providing this learning platform for young cricket hopefuls. Stragglers is also a motivational tool and confidence booster especially for the boys who participate from the development sides like Bindura and Shamva" Mugavha said.
During the festival, boys from high-density areas and elite schools mix and mingle, playing limited overs cricket and get tips from some of the top cricket coaches and selected members of the Zimbabwe national cricket team.
The Grade 4 and 5 cricketers play in the morning and the Grade 6 and 7s in the afternoon.
The players are placed into teams named after cricketing countries such as Zimbabwe, West Indies, India, England, Australia, and Sri Lanka. Each country challenges a different country every day during the week in limited overs matches. All cricketers are rotated and every player has a chance to bat and bowl. Certificates are awarded to high-achieving cricketers twice a day throughout the week.