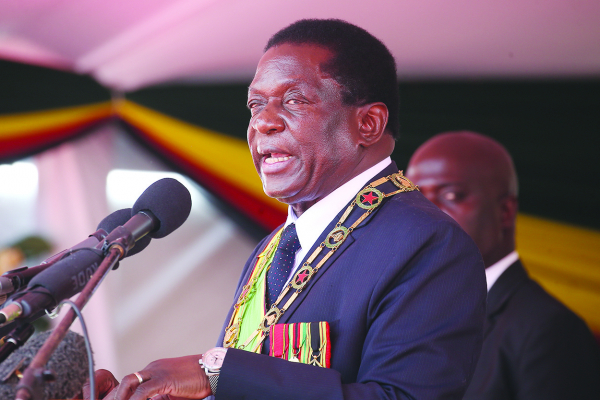 PRESIDENT-ELECT Emmerson Mnangagwa, whose victory was upheld by the Constitutional Court (ConCourt) yesterday, has reached out to his nemesis MDC Alliance leader Nelson Chamisa for dialogue and peace-building ahead of his five-year term.
BY BLESSED MHLANGA/OBEY MANAYITI
Soon after a unanimous court decision confirming his victory in the electoral challenge by Chamisa, Mnangagwa took to his official Twitter page to call for peace and unity and subsequently invited Chamisa to work with him.
"I once again reiterate my call for peace and unity above all. Nelson Chamisa, my door is open and my arms are outstretched, we are one nation and we must put our nation first. Let us all now put our differences behind us. It's time to move forward together," he said.
Mnangagwa said he had expected the decision the court finally made given that even independent elections watchdog Zimbabwe Elections Support Network (Zesn) had confirmed the victory.
"We were not surprised by the court's decision. The election results were firmly in line with all pre-election polling and entirely consistent with the final tally of Zesn, the largest body of local independent observers," he said.
In a move to dispel allegations that the courts were biased and could have been arm-twisted to confirm his victory, the President-elect hailed the independence of the judiciary.
"We have independent courts and we promised to respect their decision. Just as with the insights received from international monitors, we will accept and implement all recommendations to further improve our democratic process," Mnangagwa said.
The Zanu PF leader also commended Chamisa for submitting himself before the courts of law and condemned the violent protests which caused the loss of seven lives following Zec's delayed announcement of presidential results on August 1.
"After the wholly unnecessary violent protests, we welcomed the legal route which the MDC eventually took to challenge the elections," he said.
Chamisa, through his spokesperson Nkululeko Sibanda, said he was in a meeting which was considering the way forward after the court ruling.
"We are in a meeting that is considering those things at the moment and can only give you our response after that meeting," Sibanda said.
However, highly-placed sources said the MDC Alliance was unwilling to work with the Mnangagwa administration.
"I don't think after what has happened in this country, president Chamisa will be willing to work with Mnangagwa. How can a democratic party work with a President who shot people in cold blood? Unarmed civilians? That will not happen," the source said.
MDC director of communications Luke Tambarinyoka said the ConCourt ruling had saddened many Zimbabweans, but indicated Chamisa would respect the ruling and live to fight another day.
"Zimbabweans have just received with a heavy heart the Constitutional Court's verdict that Emmerson Mnangagwa was legitimately elected President of Zimbabwe in the just-ended harmonised plebiscite," Tamborinyoka said.
"For the record, president Nelson Chamisa and his legal team mounted a formidable case on behalf of the people of Zimbabwe, a case of chicanery and electoral pilferage that was vindicated by the Zimbabwe Electoral Commission's embarrassing revision of its own declared results for a record three times … ultimately, the people shall govern."
Zanu PF politburo member Patrick Chinamasa said Mnangagwa's inauguration would now take place tomorrow following the ConCourt ruling, with the opposition saying they would seek the political route to have their case addressed.
Addressing journalists yesterday at the ConCourt, Chinamasa accused the MDC Alliance of engaging in acts of banditry in a bid to reverse economic gains achieved by Mnangagwa in his campaign to woo international investors.
"We are very happy that the ConCourt has upheld the free will of the Zimbabwean people. I am also disappointed by the efforts by Chamisa, (MDC Alliance principal Tendai) Biti and company to ask for intensification and extension of sanctions against the economy, basically reversing the gains that President Mnangagwa had made in addressing the issue of re-engagement with the multilateral institutions. All that they sought was to undermine and reverse particularly through the acts of banditry and riots they instigated on August 1," he said.
Chamisa's lawyer, Advocate Thabani Mpofu, said despite the judgment going against his client, Zec still had egg on their face because they had failed to answer serious questions raised against their integrity, saying this also left Mnangagwa with serious legitimacy issues even after the court ruling.
"The 2,6 million people who voted for Chamisa have just been deprived of their opportunity to know the actual figures. You are well aware, for instance, that we had indicated in our papers that we would subpoena the Zec commissioners for purposes of confirming the 2,6 million and the registrar refused to issue that subpoena … we are happy on account of the matter that we brought to court, we are happy on account of the questions raised which in our view Zec failed to answer. Right now, we still do not know how many votes ED Mnangagwa managed to garner. Right now, the 16 000 votes admitted by Zec had still not gone away. Right now, the
40 000 discrepancy between presidential and parliamentary results has still not gone away. Right now, the 9 592 ghost polling station results have still not gone away," he said. MDC-T secretary-general Douglas Mwonzora said the party would pursue the political route for recourse after the court's unfavourable ruling.
"We must accept that this is the final decision of the final court of the land and we must respect it. That does not mean that if we are not happy with anything, there are no remedies. There are still political remedies, but I want to reiterate that, as MDC, we are going to be acting within the law," he said.
However, Zanu PF secretary for legal affairs Munyaradzi Paul Mangwana hailed the court ruling.
"There is no damage, because if the Constitution provides the rights to a losing candidate to challenge the election and that Constitution is applied, you are not damaging the integrity of Zimbabwe. In fact, our commitment to constitutionalism has been underscored by the manner in which the case has been handled by the judiciary. The court has endorsed the position that President Mnangagwa did win the election. They did not bring any evidence of any cheating. Let us focus on our economy. Let's live together well," he said.