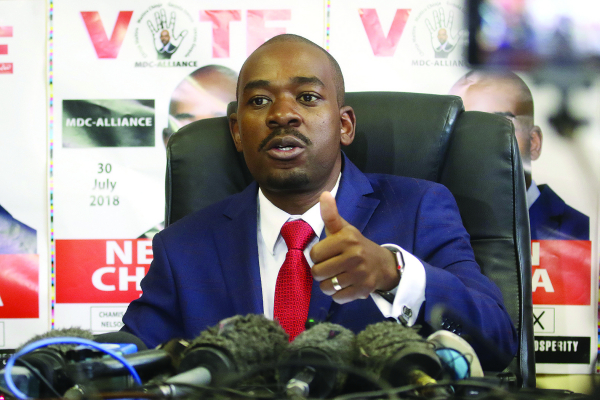 MDC Alliance supporters have launched a fundraising campaign for party leader Nelson Chamisa's legal bills in his failed electoral challenge at the Constitutional Court. Chief Justice Luke Malaba dismissed Chamisa's application that sought to overturn President Emmerson Mnangagwa's marginal victory with costs.
BY OBEY MANAYITI
Chamisa had run his electoral campaign virtually on zero budget with his lieutenants reportedly having to sleep in cars when holding rallies outside Harare. This was contrary to the extravagant campaign that the ruling Zanu PF party pulled.
But Chamisa's supporters locally and abroad, this week launched crowd-funding campaigns to save the youthful leader from possible embarrassment.
In one of the online campaigns targeting £100 000, £9 258 had already been donated to the cause by yesterday evening. Party chairperson Morgen Komichi yesterday welcomed the gesture.
"It was not launched by the party, but there are citizens who have launched the public appeal to help the president with legal bills and as a party we are very happy about the initiative and we are supporting it," Komichi said.
"It is a citizen's initiative that has the backing of the party."
Asked if they could have managed to settle the fees on their own, Komichi said they were a people-centred party and their survival revolved around its supporters.
"Our party is funded by the members and you cannot say we have the capacity without the people. We survive on our members' subscriptions and those are the people who fund our daily activities.
"We are quite happy and the people that are running (the fundraising campign) have shown progress so far and I would want to thank Zimbabweans that are contributing. It is unbelievable that within a short space of time they have managed to raise what they raised. They obviously have their own targets and what they have raised so far is incredible and we want to appreciate everyone who has contributed," Komichi said.
One of the contributors, Mutsa Murenje posted on the GoFundMe wall that the funds should go a long way in aiding the nation to achieve democratic rule.
"This is my little contribution to the democratic project. I hope it goes a long way in aiding us to achieve that which we seek: Our complete freedom!" Murenje posted. Ugandan national, Josephine Nsubuga also stood in solidarity with MDC Alliance supporters.
"Together, we will stand to make Africa a greater continent. Keep fighting you will get there in the end. I am a Friend of Zimbabwe from Uganda. We are all going through the same thing apparently. The struggle is real but I as I have already said, carry on fighting for freedom," Nsubuga said.
South Africa-based Zimbabweans have also shown interest in participating in the initiative. Siphathisiwe Maphala Moyo said: "Thank you Zimbabweans … can someone open a link in South Africa, our R10 will do something."
Many more Zimbabweans across the world have shown their support to the MDC Alliance electoral fight.