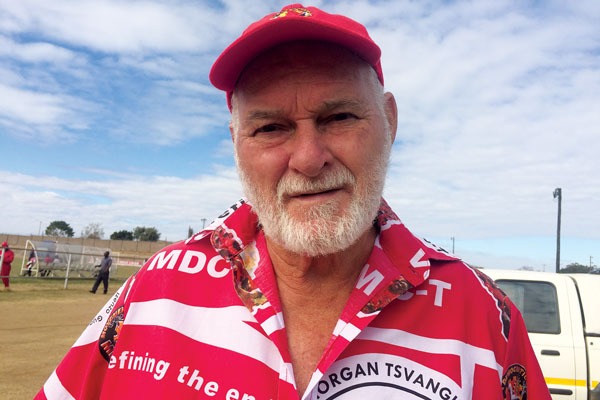 Kariba MP-elect John Houghton (JH) talked to NewsDay reporter Nunurai Jena (ND) on various issues that include the low participation of whites in national political processes and his five-year development plan for the constituency.
THE INTERVIEW: NUNURAI JENA
Houghton, a former MDC-T mayor for Kariba, bounced back into public office last month following his election as MDC Alliance legislator. Below are the excerpts of the interview:
ND: Why are there few whites participating in politics nowadays compared to yesteryears?
JH: I agree that the white community has not been very active in politics because they don't want to be intimidated, they don't want people to be vindictive against them, so they tend to shy away and sit back quietly. In fact, most of them think that President Emmerson Mnangagwa is way to go, but they don't seem to see beyond the surface because he is not the right guy. He is saying good things, but doing the opposite.
ND: Are you not afraid of being intimidated?
JH: I have not been intimidated so far. Why would all these people choose a white guy, I think it's God's plan that I'm in it.
ND: And what's your plan for Kariba?
JH: When I was mayor some years ago, we did a masterplan which was not implemented by the Zanu PF government. That masterplan would have been half way gone by now. It's a 25-year plan, so we need to revisit the plan so that we can see it through. Basically, the planning of Kariba town is very poor, it's not been in line with tourism development, it has been in line with necessity to grow. We had an investor 15 years ago and that's why we did that master plan which included the coming up of seven golf courses to be built by an international management group to host the PGA Golf Tour for Zimbabwe. Imagine what the country could get from tourism without mentioning the construction of hotels. We can still approach the same funders and with the right economic environment, they will come on board.
ND: Is that all for the urban people?
JH: No, we need a state-of-the-art central business district (CBD). The amount of ground that the municipality has is very limited. In fact, most of the development that is happening now is what was designated as game corridor.
What we need to do is to take more land. The new masterplan must be revisited and on that extra land we need to plan a new central business district that is world class. We have to find an investor that will come in and create a hub that we can build some businesses structures. That can be easily done as long as our politics is right.
ND: What about the rural folk?
JH: Mola is very good area for tourism as compared to Kariba. It has more harbour space, better fish and more wildlife. There is more potential in Mola which we are going to exploit. We need to open up the road that will go through Gokwe to Kwekwe − that is cheaper instead of tourists taking a longer and expensive route to Kariba via Kadoma, Chegutu, Chinhoyi through Karoi.
We are also going to make sure that the people from Mola and Siakobvu get electricity because these people were displaced to pave way for the construction of Kariba Dam, but they are not benefitting from that resource. That is going to be our priority number one. Kariba residents should not have electricity and water shortages, that will be a clear sign of failure on our part.