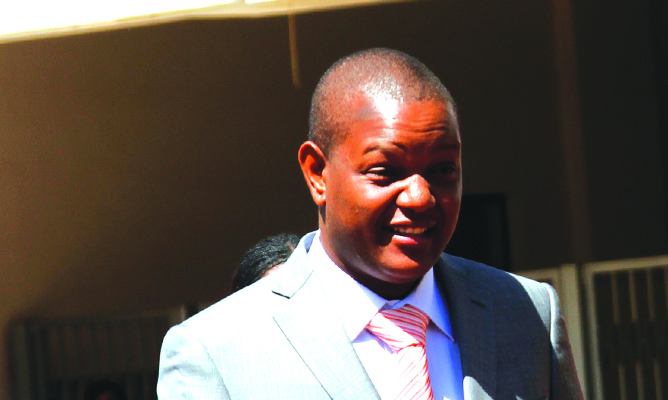 FORMER First Lady Grace Mugabe, who was recently taken to court by her former lawyers alongside her son Russell Goreraza over an unsettled legal fees bill of over $278 304, has indicated their intention to defend the litigation by entering appearance to defend through their newly-engaged lawyers.
BY CHARLES LAITON
A Harare legal firm, Manase and Manase Legal Practitioners, recently issued summons against Mugabe after the former First Lady allegedly failed to settle legal fees despite the legal firm having represented her in several court cases linked to the $1,2 million diamond ring deal with a Lebanese businessman Jamal Ahmed.
Through her lawyers Chambati, Mataka and Makonese, Grace and her son entered appearance to defend on August 8, 2018.
"Be pleased to take notice that at Harare on this August 8, 2018, the defendants (Mugabe and Goreraza) entered an appearance to defend in this action. The summons was served on the defendants on August 7, 2018," part of the notice read.
According to the court papers, in a bid to recover her money from Ahmed, Grace is alleged to have "grabbed" the businessman's three properties namely number 409 Harare Drive, Pomona; number 18 Cambridge Road, Avondale and number 75 King George, Avondale, whereupon she unlawfully deployed guards to protect her interests.
Her actions, however, sparked legal battles that dragged for months and in the process, she engaged the services of Manase and Manase Legal Practitioners, but did not pay for the services rendered.
The court papers further stated that the law firm is also claiming interest that will be calculated at the rate of 10% per annum plus costs of the litigation on a punitive scale.
In its declaration, the law firm said Grace and Goreraza approached its offices in December 2016, seeking legal services in respect of a number of cases linked to the diamond ring saga and also wanted representation in an urgent chamber application that was before the High Court under case number HC 12497/16.
The law firm further said it continued to represent Grace and Goreraza in all other matters that arose as a result of the aforementioned case, including in the Supreme Court in case number 480/17, which was later referred back to the High Court and is still pending.
The law firm also said the legal services rendered included attending to litigation procedures and hearings, the drafting of court processes, consultations, round table meetings and preparation of various legal documents.