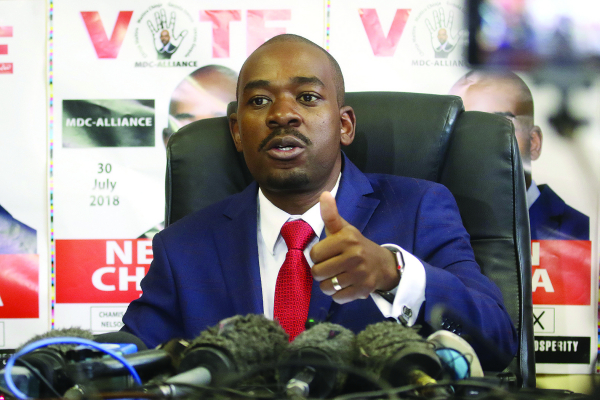 MDC Alliance leader Nelson Chamisa has taken his fight to overturn President Emmerson Mnangawa's recent electoral victory to the African Commission for Human and People's Rights (ACHPR) following the dismissal of his petition by the Constitutional Court (ConCourt) last Friday.
BY CHARLES LAITON
His lead lawyer, Thabani Mpofu, confirmed yesterday that his client had approached the ACHPR for recourse, adding the opposition leader was prepared to exhaust all the legal and political remedies to his case.
"I can confirm that we have lodged a petition with the ACHPR," Mpofu said.
In his petition Chamisa, who claims he was robbed of his victory in last month's general elections, argues that the ConCourt and the government of Zimbabwe violated the voters' rights to a legitimate government by manipulating the July 30 presidential election results in favour of Mnangagwa.
Commission on Human and People's Rights (the ACHPR) otherwise known as the Banjul Commission to challenge the August 24 Constitutional Court decision controversially validating Zec's decision that Mnangagwa won the July 30, 2018 harmonised general elections," part of the petition read.
Chamisa added that the ACHPR had the power to declare human rights violations and use that to overturn Mnangagwa's victory in his favour.
"The grounds of the petition are based on the flagrant and multiple violations of the universal human rights of the voters and people of Zimbabwe by the current Zimbabwean regime and the ConCourt including the right to free and fair elections, right to a fair hearing before an impartial court, right to legal representation by counsel of choice, right against undue political interference and the right to be governed by a legitimate government," he said.
Just after the declaration of Mnangagwa's victory by Zec on August 3, 2018, Chamisa filed a ConCourt application challenging Mnangagwa's narrow victory, arguing the whole electoral process had been marred by irregularities and massive poll fraud.
But his petition was dismissed with costs by the ConCourt led by Chief Justice Luke Malaba on grounds that he failed to provide sufficient primary evidence to prove the alleged irregularities.