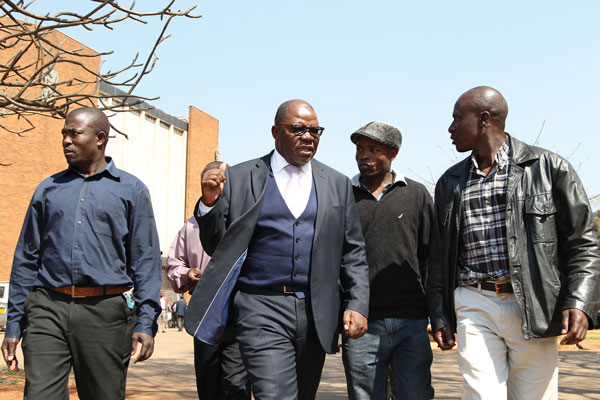 MDC Alliance co-principal Tendai Biti will only get to know his fate today when a Harare magistrate rules on his application challenging his trial by a local court following his recent deportation from Zambia.
BY DESMOND CHINGARANDE/ NHAU MANGIRAZI
Harare magistrate Francis Mapfumo told the court yesterday that he needed time to prepare for the ruling after Biti's lawyers submitted more documents to aid their application.
The State had cited a case of Beaham 1991 Zimbabwe Law Report 98, which held that once a person has been brought by agents of a foreign country and once an accused person has been abducted by the agents of a foreign country, then the court assumes jurisdiction.
But Biti said his case is different since he was abducted by Zimbabwean agents with the help of Zambian authorities.
"Besides, in any event, the accused had a court order directing that he be surrendered to Zambian authorities on August 9, 2018. That court order was handed to Chief Superintendent Jealous Nyabasa and that court order had extra-territorial jurisdiction.
The court could not have ignored that order," the document read.
Biti further submitted that in arresting him, the Zimbabwean authorities violated Zambia's refugee law, Zambia Immigration and Department regulations and Sadc Protocol on Deportation.
"Once it was shown there was no deportation order, the illegalities of the Zambian authorities remained transmitted to the Zimbabwean authorities.
All propositions by the State are clearly a red herring and completely miss the points which were succinctly expressed in State versus Ebrahim 1991 South African Law report 553," Biti submitted.
Biti said the Zimbabwean authorities were undermining the weight of international law.
He said his abduction violated international law and that the court was incompetent to try him because international law is part of Zimbabwean law.
Meanwhile, Biti's lawyer, Nqobizitha Mlilo and two other alleged accomplices arrested together with the former Finance minister at Chirundu Border Post were further remanded to September 4 by a Karoi magistrate.
Mlilo (39), Clever Rambanepasi (41) and Tawanda Blessing (36), appeared before magistrate Samuel Chitumwa.
The State, represented by Gerald Dhamusi, had to plead with the court that he needed time to read a voluminous submission by defence lawyer Jeremiah Bhamu, who indicated that he would apply for refusal of further remand for the accused.
Bhamu is arguing the accused were "unlawfully arrested for border-jumping and the case must be thrown out as it does not hold water".
It is the State's case that the trio "acted in common purpose, connived and hatched a plan to enter into Zambia by evading immigration clearance from both Zimbabwe and Zambian authorities".