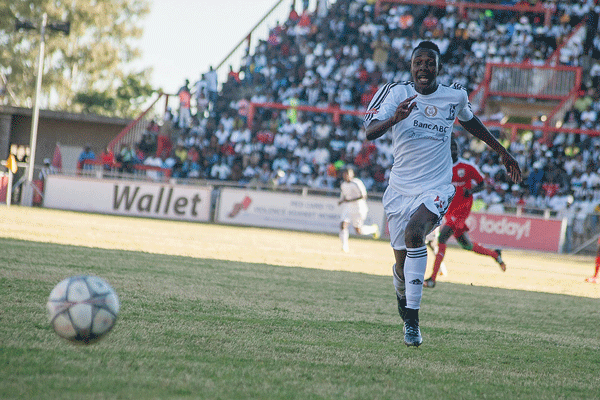 RETURNING former Highlanders striker Prince Dube will not be available for the Bulawayo giants anytime soon as earlier reported by some sections of the media, as the Bulawayo giants have a full squad of 30 players and are not officially aware of his status.
BY FORTUNE MBELE
The 21-year-old forward, who was at SuperSport United in South Africa, trained with Highlanders during the week, fuelling speculation that he has been released by his South African club and could be signed by the Bulawayo giants as a free agent.
Confirming Prince's presence, club chief executive officer Nhlanhla Dube yesterday said nothing official had been arrived at save that the striker was training with the club.
"Prince (Dube) is in the country and he has asked to train with us to keep himself in shape.
We have not had any declared status, but I am sure when we get there we will be able to give details.
We have a solid 30-member squad and that is what we are required to register," Dube said.
Dube said at the moment, they were not able to sign the player as they had exhausted their slots.
He added: "You will see him training.
If something happens, it will happen, guided by the principles of football administration.
If we get into a conversation where we take him on in whatever possibility then we will be able to say this is what we are doing and this where we are going."
Coach Madinda Ndlovu said he expressed interest in Prince and another former club striker Thomas Chideu when they trained with the club during the mid-season break.
Chideu was eventually grabbed by FC Platinum, while Prince returned to SuperSport and had a trial stint with Maritzburg United.
The South African Football Association's transfer window closes today, while Zifa's mid-season window closed on July 30.
"The window is closed.
Even if you have any interest, then what?
If you go backwards when the transfer window was open and they (Chideu and Prince) were here, what did we say?
We said we were interested in them.
We said if they are available, we are going to sign them.
The interest is there, but what do I do with him now?" Ndlovu said.
Prince was signed from Highlanders by SuperSport United in July 2016, but did not have much game time at the South African side.