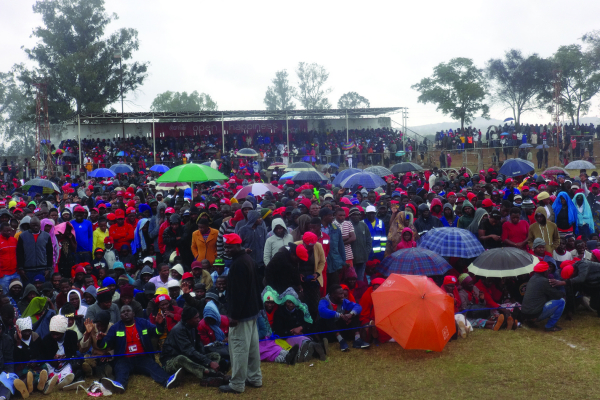 The first time he held a rally in Masvingo City, his home province in February this year, MDC Alliance presidential candidate Nelson Chamisa's address was almost disrupted by the rains that pounded on that day.
BY TATENDA CHITAGU
The MDC Alliance supporters, however, defied the adverse weather and did not disperse even as they were soaked in the downpour.
That was Chamisa's first rally in the province as leader of the opposition MDC Alliance following the death of the founding MDC-T president, Morgan Tsvangirai, who was on his deathbed in South Africa suffering from colon cancer, which later killed him.
At Chamisa's last rally in Masvingo city's Mucheke Stadium last week — dubbed the 'Last Supper' — ahead of the general elections slated for Monday, rains once again almost washed away his rally.
The crowd stayed put while they awaited the MDC Alliance's presidential aspirant, Chamisa, who was on his way from Bikita where he had just addressed another rally while on a whirlwind tour of the province. Before Chamisa had completed his address, it started raining again, resulting in his cutting short the address.
"Not even the rains stopped you from coming … Not even [President Emmerson] Mnangagwa stopped you, or the Zec (Zimbabwe Electoral Commission) which is trying to rig the elections. Victory is certain. We are going to have a run-over. There will not be a re-run, because God is in it," Chamisa said to thunderous applause.
Many who are superstitious were left wondering if the rains were a good omen for the MDC Alliance, come Monday, July 30. The MDC Alliance will be seeking to wrest power for the ruling Zanu PF party after several botched-up attempts since its formation in 1999.
In African folklore and culture, when it rains just before an important event, it is considered a positive sign. For many, it signifies showers of blessings.
In the past, African people used to carry out rain-making ceremonies during which they appealed to their ancestors for rain. If it rained soon afterwards, it was considered an answer to their plea.
Chamisa's deputy, Elias Mudzuri, also believes the supernatural pointers were a hint to his party's impending victory. He said the party and country's lucky number is eight and all the years that had the number eight have proved to be good for the country and the MDC.
"2018 is our year. It is time to liberate Zimbabweans from the Zanu PF bondage. The number eight is our lucky number, as well as that of the country. In 1980, Zimbabwe got independence, 1998 war vets got their $50 000 pay outs, 2008 we won as MDC and defeated then President (Robert) Mugabe. So, 2018 is our year of winning again," Mudzuri said while addressing a rally at Mhandamabwe business centre last month.
Mudzuri also claimed that he had dreamt of the late MDC-T president Tsvangirai smiling, telling him victory was certain in this election.
"I saw Tsvangirai in my dreams. He urged us to unite and go along with the Alliance. He then smiled and told me that victory was ours," Mudzuri said, amid cheers from the crowd that formed a sea of red that had brought business to a standstill at the transit business centre that links Masvingo, Chivi, Zvishavane and Gweru.
While it may be difficult to understand the spiritual realm, however, one of the biggest apostolic sects in the country, Johanne Marange Apostolic Church, also foretold victory for Zanu PF and Mnangagwa in the elections. The church's six evangelists also prophesied at its Mafararikwa Shrine in Bocha, Marange, last week, saying that victory for Mnangagwa was not just certain, but was a given.
"Yes, we are approaching elections and you have assured me of victory. What God has written with his hand is final. My victory has been prophesied here and nothing is going to stand in the way of that prophecy. I thank you all for that… if I fail, that will be my own fault," Mnangagwa said in response at the church shrine, where he was also donning their all-white garments.
But away from the spiritual dimension, which we cannot argue about because we do not have the 'spiritual lens', scientific research, though with a small margin of error, left room for different interpretations.
Highly-rated Pan-African think tank, Afrobarometer's pre-election survey for July, though not predicting between Mnangagwa and Chamisa, who are among a cast of 21 other presidential aspirants, indicated the incumbent's lead had sharply narrowed.
"The presidential race has tightened one month ahead of July 30 voting: Among registered voters, incumbent Mnangagwa's lead over challenger Chamisa dropped from 11 to just three percentage points between early May and early July. The voting intentions of 20% were unknown," part of the findings read.
Whatever the predictions —whether spiritual or scientific — only one thing is certain: the tricky election is too close to call and surprises can be brewed, come next week.