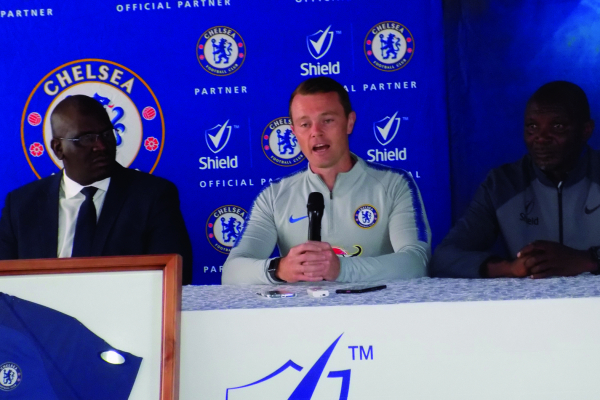 CHELSEA Academy coaches who are in the country are today expected to announce one local football youngster set to travel to London and train with the English Premiership giants' legends.
BY HENRY MHARA
The three-men delegation, led by the Blues' football development officer across Asia, Laurence Griffin, arrived in Harare on Tuesday, courtesy of Unilever Zimbabwe, who partnered with the club through their deodorant brand Shield, to give one talented player a once-in-a-lifetime opportunity to spend a day at the team's training ground in Cobham, London.
Griffin is accompanied by Steve o'Reilly, the club's football development officer in Thailand and Antony Myers, who is the club's Foundation Under-19 College head coach and strength and conditioning coach.
The lucky player will be picked from a pool of 34 players who were selected from across the country by a selection panel of local coaches headed by former Warriors gaffer, Kalisto Pasuwa.
The players have been camped in Harare for the past two weeks and had two days from yesterday to impress the visiting coaches, who will make a decision after today's training session.
It was a hive of activity at yesterday's training session, held at Belgravia Sports Club, as players were eager to convince the Chelsea coaches.
Before the session, Griffin had outlined to the players what they were looking for from the group, for one to have a chance to make the trip.
"We will be looking at your attacking play, creativity, ability to finish in front of goal. We will flip back around and look at the defensive side of the game.
"How you defend as an individual, how you work as a team to be compact, to provide balance and depth to the defensive shape but also work across different units. We will look at the final stage which is transition, how do you move from attacking to defence, how do you change from defence into attack," Griffin said.
"As individuals, we going to be looking for not just for footballers with great technique and the tactical understanding of the game, but we also will be looking for young men who show us their human qualities, young men who show us what they are all about. Are they someone who can put an arm around a teammate if they make a mistake, are they someone who can support their team.
"Have we got leaders, so there are a lot of different things that we will be looking for. So most of the times we will be looking at different ways you conduct yourself, how you absorb the information that is provided by the coaches." Griffin added: "My hope is to come back again here and we spend longer and we are able to do more for the community in the years to come. What we are looking to do whilst we are here is to inspire, motivate and also to help support the development of football across Zimbabwe.
"You gentlemen in here are now club ambassadors for Chelsea and Shield because the experience you will gain will last a lifetime. What I would urge you to do is when you go back into your communities, to your families is to pass on the information to the next generation.
"This is just the beginning of what is set to be an incredible partnership which will go from strength to strength in years to come so you guys are the flagship, the benchmark and you the foundation we are putting in place and will use to further the development of football in Zimbabwe."
Pasuwa, who led the local coaches, including Cosmas Zulu who had been criss-crossing the country to select the final players, thanked Unilever and Chelsea for the partnership that gave the youngsters an opportunity to interact with top coaches.
He added that he and his colleagues were also set to benefit from their interaction with their Chelsea counterparts.