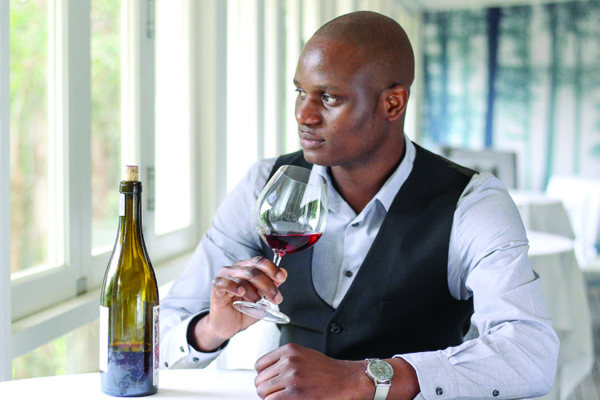 ZIMBABWEAN sommelier Tongai Dhafana's love affair with wine has seen him inscribed into South Africa's wine makers' roll of honour after passing his examinations under the watch of the South African Sommelier Association.
BY PHILLIP CHIDAVAENZI
Dhafana told NewsDay Life & Style yesterday that he was now the first Zimbabwean sommelier — and one of the only eight from Africa — to be certified following the "tough" examination during which he was tested on his knowledge of different wines and spirits brands from around the world.
He said the country stood to benefit from the development, as he was now qualified to train other sommeliers.
The wine-maker, who is in the country on a short break, said he has a number of programmes lined up before he returns to his base in Johannesburg where he currently works at La Colombe Restaurant.
"This will help Zimbabwe a lot, as I will be working with local hotels to train their staff on how to serve wine," he said.
"On June 20, I will be collaborating with Meikles hotel during a food and wine pairing dinner with 40 paid guests. On June 23, I will be working with Amanzi (Restaurant) by offering their staff lessons on food and wine pairing, again as well as teaching them how to serve wine."
Dhafana said he was happy that the wine culture was growing in the country and he had plans to work with big hotels by offering training on wine serving. "There is a wine culture in Zimbabwe but there is just need to have it re-cultivated," he said.
Now regarded as one of South Africa's leading wine stewards, the sommelier highlighted that efforts were still underway to register Zimbabwe for the World Blind Wine Tasting Competition.
"We also want to have our own Zimbabwe Sommelier Association through which we can come and train local wine makers and run examinations while working with the South African board," he said. "I would want to see more people from Zimbabwe getting involved."
Dhafana is the creator of Mosi wines — named after Mosi aTunya — with the brands Syrah and Chenin Blanc, and will be adding a third one called Merlot this year.