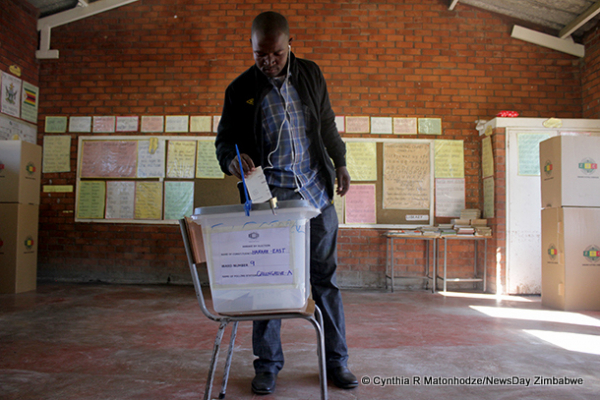 THE Zimbabwe Electoral Commission (Zec) has come under fire for denying access to the voters' roll to all political parties and candidates ahead of yesterday's sitting of the nomination court.
BY BLESSEd MHLANGA
Independent electoral watchdog, Zimbabwe Election Support Network (Zesn) yesterday said Zec's failure to release the voters' roll could lead to a disputed poll next month.
"Zesn expresses concern over delays by the Zimbabwe Electoral Commission (Zec) in availing the voters' roll especially in time for the sitting of the Nomination Court. Section 155(2)(c) of the Constitution of Zimbabwe stipulates that Zec must ensure that all political parties and candidates must have access to all material and information necessary for them to participate effectively.
"In addition, the Electoral Act in Section 21(1) and (3) explicitly states that 'the voters' roll shall be a public document' and within a reasonable time period after calling of an election, the commission shall provide it in printed or electronic form as the person may request," Zesn said in a statement.
Zimbabwe's polls have always been contested around the voters' roll which was previously administered by the Register-General's office.
Zesn said access to the voters' roll would have been more useful to political parties before the sitting of the nomination court, to enable them to adequately prepare for submission of papers by prospective candidates.
"Given that the voters' roll has been a contentious issue in previous elections and there are 46 days before polling, it is imperative that the voters' roll be made available to all stakeholders in order to enhance confidence and trust in the electoral process. Zesn reiterates its calls for the commission to adhere by the principles of the open data policy and transparency at every critical stage of the electoral cycle as this will enhance the integrity, credibility as well as address stakeholders' concerns," said the electoral watchdog.
This comes after Zec chairperson Justice Priscilla Chigumba told a Comesa observer delegation three weeks ago that the election date would only be proclaimed after the gazetting of the voters' roll. But President Emmerson Mnangagwa went on to proclaim the election date before the roll was ready.
MDC Alliance spokesperson Welshman Ncube said his party wondered which roll Zec was using for purposes of nomination court when the country had no voters' roll.