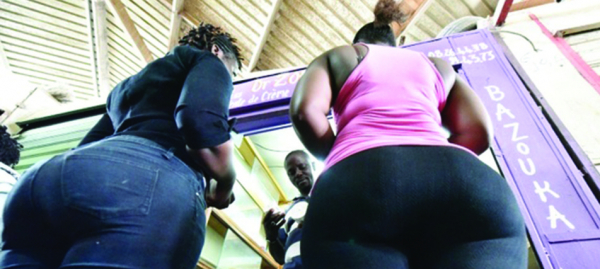 WHILE it is agreed that beautiful looks of a woman are only skin deep, with inner beauty being more valuable, women continue to pursue striking physical looks by using a whole range of beauty products from fancy make-up kits to skin lightening lotions.
BY ANESU MUSHAWATU
About two years ago, the pursuit of physical beauty went a gear up with the introduction of enhancement procedures done using injections, pills, creams as well as bum and tummy tacker pants to ensure one's backside was a little bigger and, therefore, more attractive.
After several warnings from medical practitioners and testimonies from the few who had thrown caution to the wind and paid a high price after using pills and injections such as appetito without prescription, the trend has not waned.
The latest fad is the new and improved padded hip and bum tights. These have become the rage of the moment, according to two fashion retailers who spoke to NewsDay Weekender Life & Style.
"These tights are safe. All you have to do is to be consistent in wearing them to avoid embarrassment, making sure that you buy the one that fits you well to avoid looking funny and you are good to go," a retailer who identified herself as Miri said. She specialises in lingerie as well as the padded hip and bum tights.
Another retailer who identified herself as Mai Kuku, said she preferred the new products because of their user-friendliness.
"These ones are easier (more user friendly) than pills and injections. Imagine that some of us drag our feet for birth control injections and I cannot imagine being injected every now and then just to maintain my hips," she said.
A Harare woman making her fifth purchase in the shop said that she liked the padded tights because they were easy to maintain.
"These skin tights are just like the normal skin tights that every woman wears. The only difference is that they are padded, which is an advantage to most of us especially in this winter because they are warm and they are also easy to maintain because you just remove the stuff inside, wash it and replace it and your tights are as good as new," she said.
Two of the women purchasing the padded pants said they were married and did not use the clothing items to appear more attractive.
"I don't know why people fuss about them. Why should I be worried that my partner would find out so what? It's not like he is still proposing. He knows what I look like without them and, besides, it's just like someone putting on make-up. Isn't it you will remove it when you go to bed?" she quipped.
She said many of the women admired for wearing the tights lied that they were fitness fanatics who exercised to maintain their body shape when they were simply wearing the new fashion items.
The padded hip and bum tights come in different designs and shapes depending on personal preferences and are selling for between $10 and $12.