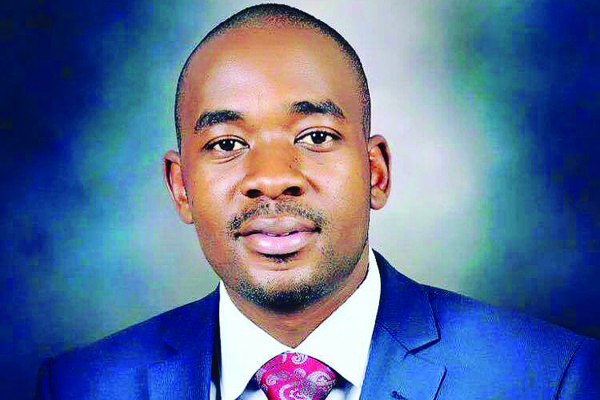 POLITICAL analysts have urged MDC Alliance presidential candidate, Nelson Chamisa, to objectively analyse a recent poll survey report produced by Afrobarometer to correct the highlighted grey areas and increase his winning chances ahead of next month's general elections.
BY CHARLES LAITON
The analysts warned that it would be suicidal for Chamisa to dismiss the report without critically analysing it.
The survey predicts that Chamisa would garner 31% against Zanu PF presidential candidate Emmerson Mnangagwa's 42%, a result which points to a re-run election.
Political commentator Maxwell Saungweme said: "The issue is that politics in Zimbabwe is highly dynamic, and a day in Zimbabwe's politics is a very long time. A lot may have changed with the passing on of Morgan Tsvangirai and the rise of typhoon Chamisa . . . the emergence of Robert Mugabe's National Patriotic Front (NPF) and its aligning to MDC Alliance is another factor that may change numbers. The launch of party manifestos especially the MDC-T's SMART document may also change the voting numbers in a very big way."
He added: "If anything, the survey is helpful to the MDC Alliance not to be complacent, but work hard to get a definitive win. The MDC Alliance needs to win by a large number to debunk rigging…..the survey was done at a time when people realised that they replaced Mugabe by a military junta hence their dislike of the whole military removal of Mugabe.
"It's true the country is going nowhere or in the wrong direction with Mnangagwa. Changing a country from a police state to a military one is not a pointer in the right direction. Chanting anti-corruption slogans while shielding known corrupt ministers is not a step in the right direction either . . . so many things are just wrong and going wrong and there is no need for a survey to see that Zimbabwe is not headed in the right direction. So the survey is spot on."
University of Zimbabwe (UZ) political science lecturer Eldred Masunungure, echoed Saungweme's sentiments and defended his organisations findings saying the MDC Alliance should take the results seriously.
"All respondents were randomly selected and samples were distributed across provinces and urban or rural areas in proportion to their share in the national population and every adult had an equal chance of being selected in the survey because of the sampling protocol," Masunungure said.
"If any political party, especially the MDC Alliance, decides to ignore the survey it will do so at its own peril . . . the research included findings on various factors of the election process including perceptions on the essence of voting, the authenticity of the elections and the independence of the electoral body," he said dismissing reports that his organisation was linked to the ruling party Zanu PF. "It is improper for some misguided elements to suggest that the MPOI's survey was conducted in order to favour Zanu PF."
But Human Rights Watch's Southern Africa director, Dewa Mavhinga said the Afrobarometer report should be taken with a "pinch of salt" given that the country was coming from a history of extreme polarisation and a background of political violence.
"What is key now is the authorities, the government to create a conducive environment for the holding of free, fair and credible elections and for Zimbabwe Electoral Commission (Zec) to open up and ensure a transparent and independent free and fair vote so that Zimbabweans can freely express themselves and choose leaders and political parties of their preference without fear of intimidation, threats or violence."
United Kingdom-based political analyst, Gladys Hlatshwayo said although it would not be conclusive to read much into surveys in predicting poll results, the same should not be dismissed at face value.
"Surveys may not be the best way to predict polls and the case of the last US elections and Brexit are lessons to keep in mind, more so in the Zimbabwean society where there is a lot of fear. Nevertheless, surveys can be used to understand political phenomena and therefore should not be dismissed. The Afrobarometer survey indicates a runoff possibility but even significantly it indicates that the opposition has doubled its support base and Zanu PF's support is dwindling since the last Afrobarometer survey. It will be interesting to see if this trend continues," Hlatshwayo said.