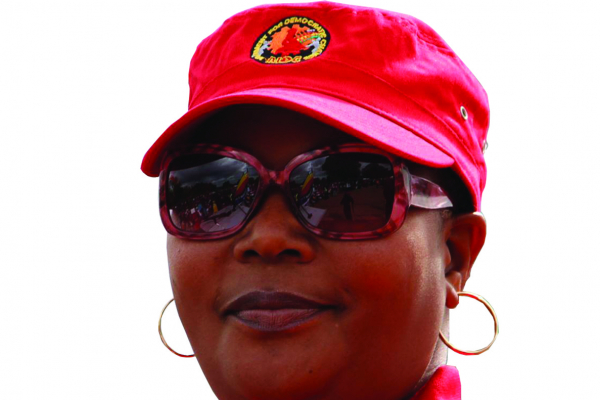 MDC-T breakaway faction leader Thokozani Khupe (pictured) has expressed concerns over President Emmerson Mnangagwa's decision to proclaim July 30 as the election date, saying the date was too close and did not factor in opposition parties' electoral reform demands. She was, however, ready to slug it out with other contestants in the presidential race.
BY SILAS NKALA
In a statement yesterday, the faction' spokesperson, Linda Masarira said Mnangagwa rushed to gazette the election date before publication of the audited voters' roll by the Zimbabwe Electoral Commission, casting aspersions over the credibility of the polls.
"Without a clean and audited voters' roll, Zimbabweans should simply forget about holding a free and fair elections that can pass the test of legitimacy. There is an uneven election ground as the system is still ignoring the abuse of women in politics due to the patriarchal nature of Zimbabwean politics," she said.
"It is worrisome that there is now a perpetual intervention and inclusion of the military and security sector in national politics. In our quest to have a fair electoral process there is need of an intensive ballot audit and counting of votes soon after the election as delays might create an atmosphere of unfairness."
Masarira also raised concern over the continued presence of the military in the Zec secretariat.
"We are still challenging the composition of Zec administration/secretariat which constitutes 15% of retired army personnel. This crop of retired army personnel also forms the reserve force of the army of Zimbabwe which poses a serious conflict of interest especially now since we came out of a military managed coup," she said. Masarira accused Zec of seeking to confuse voters by introducing an additional 1 500 polling stations when voter registration which was polling station-based has already been completed.
"Won't we find ourselves in a scenario where people will be turned away en masse from their original polling stations? Could this be a tactical way of removing someone from a voters' roll? Is this not a way of opening up secret polling stations that will be new and no one knows their location?"
Masarira said they will not play into Zanu PF's hands by boycotting polls.
"We are still in the same situation which necessitated the call for reforms so having elections without reforms is a futile activity. Boycotting elections is not an option as we will just be playing into Zanu PF's plans. Constitutionalism, institutional reform, electoral reform and a diametric shift in the trajectory of governance will reign and be the order of the day if we vote Khupe as the President of Zimbabwe," she said.
Meanwhile, Zimbabwe People's Revolutionary Army Veterans Association spokesperson Buster Magwizi yesterday said Mnangagwa's government should have done more to ensure free and fair polls
"The removal of fear which has been instilled in people through laws such as the Public Order and Security Act and the Access to Information and Protection of Privacy Act could have been done. The elections, however, should continue since the date has been set, but it would have been fair if the reforms were done before the date was set," Magwizi said.