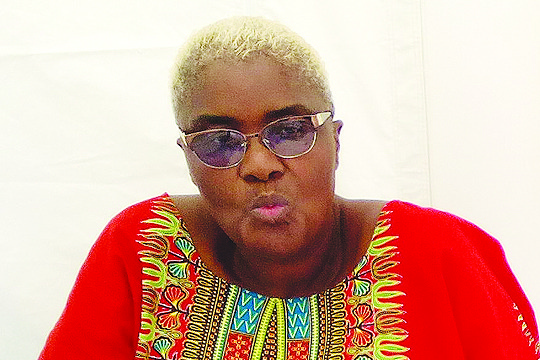 MDC-T's proportional representation legislator for Matabeleland North, Ruth Labode, has been actively involved in quizzing top government and hospital officials during hearings conducted by her Parliamentary Portfolio Committee on Health.
By NIZBERT MOYO
Labode (RL) recently spoke to NewsDay (ND) correspondent, Nizbert Moyo on her role as legislator where she revealed how she mentored many young politicians, paid school fees, fed the elderly and the vulnerable every month, as well as assisted in sending patients for medical operations in and outside the country.
Here are the excerpts of the interview:
SE: Who is Ruth Labode and how did you join politics?
RL: I am a family woman. I worked as the regional president of Confederation of Zimbabwe Industries (CZI), where I learnt a lot of things. I am also a medical practitioner. I realised that some of the things cannot be implemented, and they needed one to become a policymaker, for instance, if one were to approach donors. I worked closely with the late president of the MDC-T Morgan Tsvangirai during the Government of National Unity. This is when Tsvangirai added my name to become one of the party leaders in Matabeleland North province. I developed a good working relationship with him and got to understand that some of the stumbling blocks that could be solved through politics. In 2013, we lobbied for a women's coalition. I then became an MP representing Matabeleland North province through the PR quota system.
SE: What have you offered to the province as a PR MP?
RL: We do not get Constituency Development Funds as PR MPs. I have developed a network of civil society groups that assist fund projects in the region. I pay fees for a student at Lupane State University, and another one that I assist with fees at Maraposa Primary School. I connected another boy for a heart surgery operation. I have mentored many young women politicians through the Women Institute in Leadership Development (Wild). I also have programmes for the youth. I am a philanthropist. I also feed people that are in remand prison, as well as the elderly and the vulnerable children every month.
SE: Since you do not have a constituency, how do you meet people?
RL: I meet people through other MPs. Groups of people approach me when they have an issue that needs my assistance. We also have a ward-based strategy, whereby, people invite me to their wards and raise issues, for instance, in Lupane they raised the issue of bicycles and I bought them. I meet them in smaller groups and solved their problems as I do not believe in rallies. The other challenge is that the constituency is located in rural areas, so one has to travel a lot to meet people and the roads are sometimes inaccessible.
SE: What can you say of the five years that you have been in parliament?
RL: It was a learning process; I learnt how to draft Bills, lobby for issues, for instance, medical issues and policy issues. I learnt a lot through party programmes, leadership and responsibility. I also learnt how to work together with others as a team. I raised issues of transparency and accountability in Parliament, and we also summoned ministers and grilled them in Parliament. I chaired the Health and Child Care Portfolio Committee and successfully pushed for the crafting of the Health Bill, which was outdated. I am one of the founders of the Parliamentary Global TB caucus and became the chair and the regional champion of the Global Fund. I trained Pan African Parliamentarians on health issues in South Africa working in conjunction with UNAids. I also won a Zim Rights human rights award.
SE: What is your message to other aspiring women politicians?
RL: They have to stand their ground and have a strong understanding of their constituencies. They need to research in order to participate or else they will face a lot of challenges when debating in Parliament. I am getting into my last term through God's grace, and I hope to get it since I have a passion to help people of my constituency.