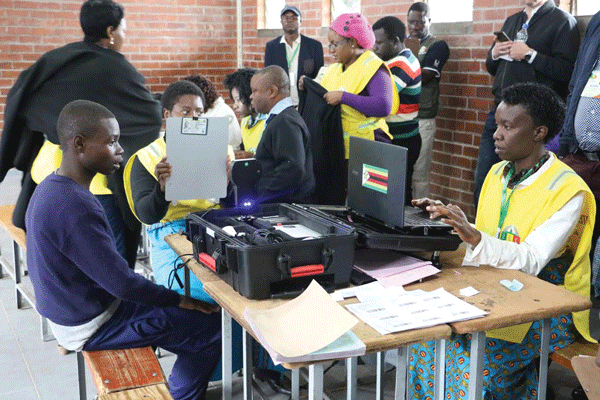 OPPOSITION parties and civil society groups have poked holes in the biometric voters' roll released by the Zimbabwe Electoral Commission (Zec) this week, describing it as "fake" and a mere "list of names" lacking voters' critical biometric data to make it a credible document.
BY EVERSON MUSHAVA/BLESSED MHLANGA
In an emotive tweet on Wednesday night, opposition MDC Alliance presidential candidate Nelson Chamisa said he was left disappointed after going through the voters' roll and warned: "Our response is coming, it will be red."
"We've now established that the voters' roll Zec is issuing is not the final roll. Those who 'registered' during inspection are yet to be added. Zec claims it will add them later. So Zec has given us a voters' roll it knows is not final," he tweeted.
Chamisa's MDC-T secretary-general Douglas Mwonzora also dismissed the voters' roll as fake.
"It is not a voters' roll, it should have adequate information including photographs. That we have a list of names does not mean we have a voters' roll. It falls short of being a biometric voters' roll," Mwonzora said.
A national voters' roll collected from Zec by NewsDay yesterday has no pictures on data entries for the voters.
Zimbabwe embarked on biometric voter registration last year in a bid to construct a fresh register of voters to enhance the credibility of the July 30 polls.
The voters' roll released by Zec only has names, date of birth, gender and physical addresses without the voters' pictures.
But contacted for comment over inadequacies cited in the voters' roll, Zec commissioner Qhubani Moyo said they had deliberately withheld voters' bio-data like photographs for security reasons.
"We (Zec) made a commitment to the people that we will not indiscriminately distribute their data. So we have chosen to give to political parties and stakeholders a voters' roll without photos. We do not see how a voters' roll with all other information but photos will prejudice anyone and are satisfied that all genuine Zimbabweans who want to use the voters' roll will not find anything amiss with it," Moyo said.
Zec vice-chairperson Emmanuel Magade also admitted that the voters' roll given to the parties was not final, as they were yet to capture the names of all potential voters who registered during the provisional voters' roll inspection period which ended on June 2.
"Anyone who registered to vote before June 2 on the closure of the voters' roll will vote in this election in line with the laws of the country," Magade said.
"Their names are still to be added to the voters' roll because this is work in progress, those names will be added to the voters' roll that will be used during the polls."
Zimbabwe's polls have largely witnessed contestation over the voters' roll, which opposition political parties have alleged was manipulated to create ghost voters for the ruling Zanu PF to disenfranchise others.
Coalition of Democrats presidential candidate Elton Mangoma said: "You can't work with it. I don't know if others are competent enough to work with it. It is not just only about pictures, but it is unworkable. It is as good as we don't have the voters' roll. I can't even check if my name is there. I only know it is there because they accepted my nomination. We will continue to demand a voters' roll."
Poll lobby group, the Election Resource Centre (ERC) also aired its disappointment on the voters' roll.
ERC condemned the voters' roll for lack of critical biometric data such as photographs of those registered allegedly in violation of Section 9 of Statutory Instrument 85 of 2017.
"Section 9 of Statutory Instrument 85 of 2017-Electoral (Voter Registration) Regulations, 2017 provide that: "The CEO [chief executive officer] shall compile a voters' roll for each polling area showing the voter's name, DOB [date of birth], sex, ID number, physical address and photoghaph," ERC claimed in a tweet.
In another tweet, ERC said: "ERC is in the process of analysing the final #VotersRoll as availed by @ZECzim, a comprehensive analysis to be released soon. We have, however, noted with grave concern that the final #VotersRoll does not contain pictures of voters. Where are the pictures that were captured by Zec?
"Principles of voter registration include completeness. We expected @ZECzim to release a complete, accurate and comprehensive roll. Where are the pictures that were captured by Zec?"
Another poll watcher, the Zimbabwe Election Support Network, said it had purchased the electronic copy of the 2018 voters' roll and would analyse it.
"We will assess the voters' roll for accuracy, completeness and currency to build confidence in the credibility of the elections. #zimvotes2018," the group said.
According to the provisional roll, Harare has the highest number of registered voters with about 900 300, followed by Midlands (761 474), Manicaland (733 864), Mashonaland West (644 974), Mashonaland East (633 126), Masvingo (617 204), Mashonaland Central (531 864), Matabeleland North (338 851), Matabeleland South (264 160) and Bulawayo with the least number of voters at 258 690.
In an interview with NewsDay at the weekend, Zec acting chief elections officer Utoile Silaigwana confirmed the biometric voter register would not be used in the upcoming election.