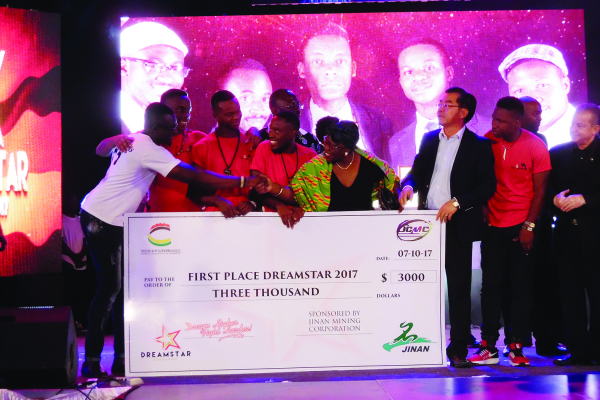 ORGANISERS of the annual DreamStar Zimbabwe Talent Show, the Chinese Federation of Zimbabwe (CFZ) and its partners, will tomorrow take the auditions for the competition to the Zimbabwe Academy of Music in Bulawayo.
BY WINSTONE ANTONIO
In an interview with Southern Eye Life & Style, DreamStar Zimbabwe spokesperson, Tinashe Kitchen said those chosen at the auditions, which commenced on April 28 in the capital, will advance to the competition's semi-finals and could win the $3 000 grand prize and a trip to China.
"The DreamStar Zimbabwe Talent Show's auditions are going according to script, as we have already selected four university students from University of Zimbabwe, Midlands State University, Chinhoyi University of Technology and Great Zimbabwe University, who now wait to take part in the semi-finals," he said.
"This weekend (Saturday), we will be in Bulawayo at Zimbabwe Academy of Music, as we continue with our talent search for contestants at this year's fifth edition of talent show."
Kitchen said after Bulawayo, the auditions return to Harare on June 16 to 17 at Batanai Gardens.
"Our talent show continues to grow bigger and better, that has seen us launching the DreamStar Scholarship Foundation with the assistance of the Chinese embassy. We have secured partnerships with various schools in China including Southeast University in Nanjing to provide academic scholarships for the qualified individuals," he said.
"Locally, we have also partnered with the Chibuku-Neshamwari dance competition, which focuses on traditional dance, but for their 55th anniversary, Chibuku will introduce contemporary dance styles were aspiring contestants will compete for a grand prize of $3 000."
Kitchen said to qualify for the Chibuku-Neshamwari national finals, the dance crews must first participate at DreamStar Zimbabwe Talent Show auditions, where the winning crews will then also automatically qualify for the DreamStar national semi-finals and compete for a spot in the national finals.
The ultimate winner of the competition is set to pocket $3 000 and a recording deal with DreamStar's recording label, JCMC Studios, while the second and third prizes are pegged at $1 500 and $750, respectively, with opportunities to travel to China on a cultural exchange tour.
"Apart from the monetary rewards, as a way of according the talented upcoming artistes the much-needed exposure and experience of performing, the winners will travel to China for some performances at some of China's main stages and also get employment opportunities in China.
The arts and culture show that was established by CFZ, Jacaranda Culture and Media Corporation seeks to empower gifted people aged between 12 and 40, who are in the arts and culture, to help them rise from the backstage to the official stage.