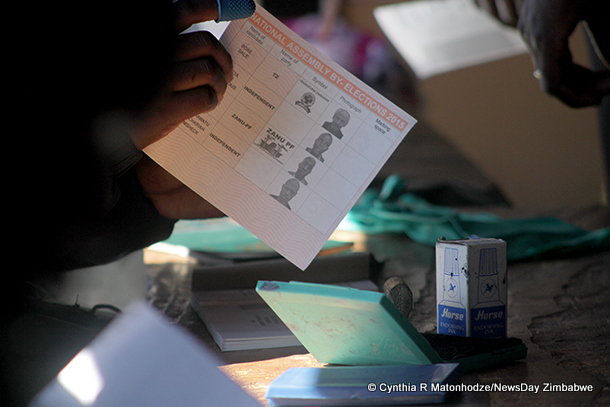 OPPOSITION political parties have accused the Zimbabwe Electoral Commission (Zec) of blocking visually-impaired Zimbabwean citizens from voting in the upcoming general elections due to absence of Braille ballot papers.
By NQOBANI NDLOVU
Zec chairperson Priscilla Chigumba confirmed at the weekend that there will be no Braille voting material in this year's polls.
Chigumba argued the commission had not carried out a survey to ascertain the number of people capable of reading Braille, "unless we have done that for 2018 elections, we are not going to use Braille ballot papers".
The opposition said Zec was sidelining the visually impaired and tramping on their constitutional right to cast their vote in private.
"Zec is disenfranchising the visually-impaired electorate which in no doubt is eager and willing to vote for real change in the upcoming elections," MDC spokesperson Kurauone Chihwayi said.
Chihwayi argued that the development was not in line with free and fair electoral practices.
"Granted, in the absence of Braille ballot papers, the electoral law has provisions for the blind to be assisted to vote by officers presiding over polling stations in the presence of a police officer and agents of contesting political parties, however, this is not adequate or safe.
"As MDC, we call on Zec to urgently address this matter to guard against a repeat of 2013 polls which saw a large number of votes stolen through the so called 'assisted votes'," he added.
President Emmerson Mnangagwa has promised to ensure the country holds free, fair and credible elections.
Zapu spokesperson Iphithule Maphosa said: "Just like many other special and socially vulnerable groups, the visually-impaired were being denied their constitutional right to elect public officials.
"It's because Zec and the current "coup" government do not understand the essence and meaning of democracy, which is basically having all sections of our society represented at every level of government and development processes, including the visually impaired."
Linda Masarira, the spokesperson of the Thokozani Khupe-led MDC-T faction argued that the development trampled on the rights of the visually-impaired to cast their vote in private.