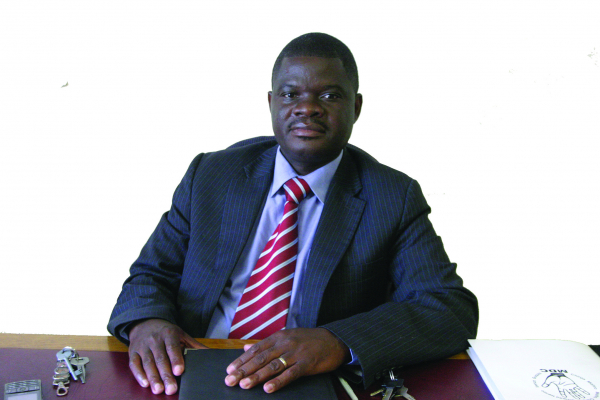 ZIMBABWE might be headed for another violent election this year if the chaos and intra-party violence currently rocking both the governing Zanu PF party and main opposition MDC-T's primary elections is anything to go by, human rights groups have warned.
BY STAFF REPORTERS/OWN CORRESPONDENTS
Both parties are reportedly on the edge with candidates slugging it out in violent internal polls amid allegations of massive rigging and attempts by top officials to impose their preferred candidates in certain constituencies.
Human Rights Watch Southern Africa director Dewa Mavhinga said: "Both Zanu PF primaries and MDC-T processes to choose MPs have been shambolic, chaotic and characterised by protests over lack on internal democracy and adherence to clear rules. This does not augur well for the upcoming national elections."
Mavhinga and other human rights organisations spoke as scores of disgruntled MDC-T supporters stormed the party headquarters in Harare yesterday, claiming irregularities in the selection of candidates during the consensus-building exercise which started at the weekend.
The demonstrators accused the opposition party leaders of imposing candidates of their choice.
"If Zanu PF can have primary elections, surely the MDC-T can do better. We have accused Zanu PF of denying our party the voters' roll, but it is exactly what we are doing internally," one of the protesters at Morgan Tsvangirai House, said.
But MDC-T chairman Morgen Komichi dismissed the demonstrators as "hired" Zanu PF activists on mission to discredit his party.
"I suspect those who are demonstrating are not MDC-T members. Our people know all our processes and after the primary elections, we are going for another round of appeals where we will deal with issues raised by our legitimate members. They must come through the office of the chairman," he said.
This came as MDC-T's Harare West sitting MP Jessie Majome pulled out of the party's candidates' selection system, citing underhand manoeuvres to push her out of the race and vowed to stand as an independent candidate.
"Once I say that I am putting my hat in the ring as an independent, it means I am not representing the party in the election and that is what I have simply done. I have withdrawn from seeking the party ticket and when the election comes I intend to compete for the seat of Harare West," she said.
Violent skirmishes were recorded in Budiriro, Glen View North, Glen View South, Zengeza, Kambuzuma and Gokwe Central where MDC-T candidates clashed over the selection criteria.
In Budiriro, sitting legislator, Costa Machingauta had to flee the venue of the meeting as party youths charged at him. In Glen View North, party supporters turned violent and accused sitting legislator, Fani Munengami of maliciously removing names of those contesting against him in the party's primary elections.
Similar incidences of violence were also recorded in Glen View South where Vimbai Tsvangirai Java, an aspiring legislator had to be escorted out of the venue after party supporters turned violent, accusing her of imposing herself in the constituency.
Several incidences of violence and intimidation were also recorded in Glen Norah, Zengeza, Kambuzuma and Gokwe.
Zanu PF was also reportedly in flames in the 14 constituencies where re-runs were being held yesterday, amid reports of chicanery, cheating and violence.
In Harare South, one of the aspiring Zanu PF candidates Douglas Mahiya said they had petitioned the party's elections commission to order another re-run due to alleged massive rigging.
He claimed that one of the contestants Tongai Mnangagwa, who had been disqualified, "was miraculously found on the list".
"What has happened today is that all polling stations didn't have security, so rampant cheating and corruption is happening. We also have rampant violence going on as a result of Tongai's supporters at Churu Farm.
"We have registered our disappointment by writing a petition signed by all candidates and it has been submitted to the commission," Mahiya said.
In Masvingo, ex-Central Intelligence Organisation officer, Mafio Mlambo shocked his supporters after he unceremoniously pulled out of the race at the last minute, leaving her rival and sitting Gutu East MP Berita Chikwama to go unchallenged.
Zanu PF re-runs in most parts of Manicaland were reportedly marred by voter apathy, while in Zvimba South, Zvimba North, Chegutu West and East, the process faced hiccups due to late delivery of ballot papers.
In Chinhoyi, the elections were cancelled and the first round results were allowed to stand, prompting violent protests by losing candidates who accused the leadership of double standards.
Zanu PF Mashonaland West chairperson Ziyambi Ziyambi also professed ignorance over the decision saying: "I don't have an answer to that because we were also made to believe that Chinhoyi was ordered to go for a rerun, but we were told otherwise and the best people to respond are from the commissariat department."
In Makoni Central, Senator Shadreck Chipanga's name was missing on the ballot paper and candidates agreed to do away with the official ballot papers and allow voters to write the full name of their preferred candidate's name on a piece of paper. Mutare West had similar challenges as the name of one aspiring candidate, Freddy Mushipe, was missing on the ballot paper.
At the time of going to print last night, there were unconfirmed reports that voting in Glen View South and North had been postponed to today following an agreement by all Zanu PF aspiring candidates.
Contacted for a comment, Zanu PF secretary for administration Obert Mpofu said: "It's the responsibility of the commissariat department and I haven't received anything yet. You can check with Cde (Engelbert) Rugeje."
But, Rugeje was not picking calls, and instead he sent a message that read: "Sorry, I can't talk right now."
Human rights groups urged the two main political parties to conduct their internal elections in a free and fair manner and dissuade their supporters from engaging in acts of violence.
Mavhinga said: "Political parties must embrace principles of democracy which simply say people must freely choose their leaders without any chicanery, undue influence, intimidation, or bribery. The idea of credible, free and fair elections must begin at the level of primary elections, not just when it comes to the main national elections. Leaders must not impose candidates of their liking they must allow democracy to thrive, even if it means their favourite candidates lose. What is happening means democracy loses while individuals 'win' because they have power of money, patronage or violence. It is a shame really."
Heal Zimbabwe Trust (HZT) in a statement on the MDC-T intra-party violence said it was "appalled by violent episodes of intra-party violence that rocked MDC-T consensus meetings in several districts across the country over the weekend".
"HZT is dismayed by the continued disregard of political tolerance among political parties as the nation braces for the much awaited 2018 elections. Hardly a week ago, violence and intimidation rocked Zanu PF primary elections as party supporters clashed over reports of vote rigging and manipulation of voter registers. HZT views the lack of political tolerance as a recipe for political violence. It is also HZT's view that tolerance, pluralism are principles central to the attainment of peace and also form core pillars of democracy.
"HZT implores MDC-T and other political parties to abide by the electoral code of conduct for political parties and candidates."
Concerned Citizens of Zimbabwe Support Network weighed in, saying: "Opposition must ensure all primaries for all candidates are completed immediately. We only have two months left to elections and we still do not know who our MPs are. Zanu PF will stuff ballots and we won't even know because we too disorganised to know our own numbers.
Zanu PF has been asking voter registration slips and tallying them."