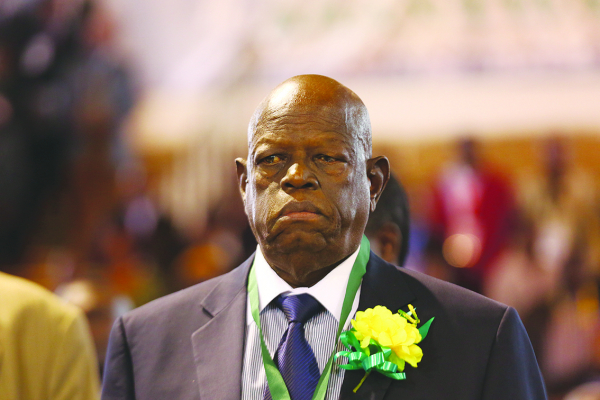 ONE of the candidates contesting in Zanu PF Makokoba constituency Nothiwani Dlodlo has filed an appeal against incumbent legislator Tshinga Dube, citing rampant vote-buying, intimidation and polling station maladministration.
BY SILAS NKALA
Dlodlo was battling it out with Dube and Women's Affairs minister Sithembiso Nyoni's husband Peter Baka Nyoni, to represent the party in the fortcoming elections in Makokoba.
According to yet to be confirmed results Dube romped to victory in an election where only less than 700 people reportedly voted after many party members were turned away because they were not in the cell registers.
In a letter addressed to Zanu PF national elections commision chairman and national political commissar Engelbert Rugeje, Dlodlo said he was seeking nullification of the Makokoba results over vote-buying, intimidation and polling maladministration by presiding officers.
"The reason for writing this letter are as follows, as of June 10, 2015, Makokoba constituency had 20 000 voters, but on April 29, 2018 a total of about 500 plus or minus registered Zanu PF cell members voted in Makokoba constituency which is equivalent to 10 party cells. Only Tshinga Dube who was bussing his supporters by LED Travellers Tours bus whose proprietor happens to be his long-time friend when they were all Zifa Board members and to me thus part of vote-buying," the letter read.
"Dube bought bicycles, gave special welfare rice to his supporters again thus vote-buying. The Constitution of Zimbabwe Amendment No 20 bars uniformed forces like the Zimbabwe Republic Police to be partisan, but at Burombo Polling Station we have Mzilikazi Police Station Officer-in-Charge being the presiding officer as if Zanu PF has run out of party human resources not even ashamed to using clearly labelled ZRP Mzilikazi Station vehicle in party business."
Dlodlo alleged that at Burombo Polling Station there was no secrecy in casting ballots, and his polling agent was denied the right to observe the voting process, only to be invited when it came to sealing the ballot buckets and counting.
"In Westgate, Makusha who was representing Dube was the only agent who was allowed 90% of the polling time to stand next to the ballot bucket and clearly watching the electorate choosing a candidate of their choice its only when I complained that the presiding officer removed him but the damage had already been done," the letter read. "My name was not on the voters' roll. We were told the electorate will be transported by the province only to realise that it was a scam to prop up Dube as the province did not provide transport but a LED bus provided by Dube. Dube as the current MP and direct beneficiary of Constituency Development Fund ($50 000) he used this money to directly prop up support for the primaries and also this money was used to prop up support for his chosen council candidates for ward 7 and 8 who happen to be provincial members also working in his constituency office."
Dlodlo said aspiring candidates were not given enough time to campaign.
"I pray that after considering the contents of this letter you will call for a re-run."
Dlodlo said he submitted the letter to the Bulawayo provincial offices for forwarding to the national leadership for consideration.
Meanwhile, chaos rocked Magwegwe constituency with one of the contenders Sibongile Sibanda saying all was not well in the party structures in the constituency due to clandestine vetting of candidates which saw people who were not residents in the constituency contesting in the primaries for the seat.
The six candidates vying for the seat Godwin Mugumba, Sindisani Mpofu, Gilbert Manwele, Headman Sibanda, Martha Ncube and Sibongile Sibanda.
Sibanda said her concern was that the candidate who was favoured by Magwegwe district chairperson Ulirile Mabetha, Mugumba lives in Mahatshula.
Mugumba, however, said: "Go to the party offices, records show that I have stayed in Magwegwe since 1996, otherwise she is the one who was staying in Harare and only came here to contest that seat."
Incidents of bussing voters were witnessed at Magwegwe where prominent businessman and Safari operator Headman Sibanda reportedly transported voters to the polling stations.
Party members said ward 29 had 17 cells but only 11 cells were allowed to vote on Sunday while some names were missing from the voters' roll.
Details emerging yesterday were that in the Magwegwe constituency, Headman Sibanda was leading, followed by Mugumba.