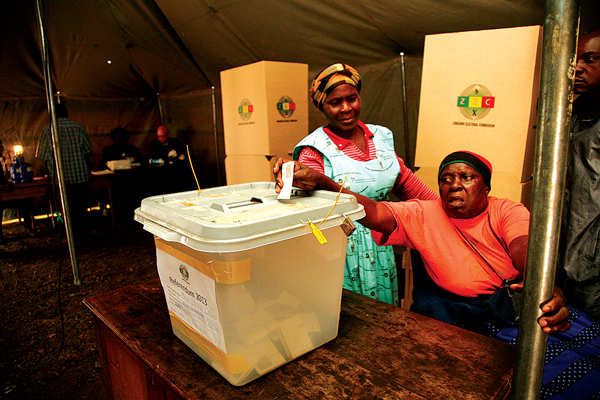 OPPOSITION parties in Zimbabwe need to create a crisis that will result in international intervention to come up with conditions for a free and fair election, a leading academic has said.
BY RICHARD CHIDZA
Speaking at a public debate hosted by the Southern African Political and Economic Series Trust on Thursday, Tony Reeler, an academic with the Research and Advocacy Unit warned that Zimbabwe would likely descend into chaos whatever the result of the presidential election.
"The broader playing field is extremely worrying. It requires security sector containment. The military must be brought under civilian control.
"Traditional leaders have already declared their allegiance. There must be a clear way in which their influence is contained. There is need for comprehensive monitoring, and we suggest we must set-up a multi-party co-operative monitoring process that watches what the military and the traditional leaders do. We do not only demand that the military and traditional leaders must make statements to the effect that they will abide by the constitution," Reeler said.
"As is the case in most situations after a military coup, there must be peacekeeping people. Peacekeeping forces will meliorate or minimise violence.
"The Zimbabwe Electoral Commission (Zec) must be the target of a multiparty comprehensive monitoring team that could also include regional and international organisations. These people could be placed in Zec, the military and such other institutions to observe if they are doing their jobs properly."
Former President, Robert Mugabe was forced out of power last November after the military stormed key State institutions triggering an internal Zanu PF process that resulted in the former guerrilla leader's resignation.
Another academic and publisher, Ibbo Mandaza said the international community has chosen to "sanitise a coup if there is a free and fair election".
"The international community turned a blind eye to a coup. They chose to say we will sanitize a coup if they are free, fair and credible elections. It's a platitude, hypocritical, cynical especially on the part of those who govern our world, the European Union, British, US and the African Union.
"By participating we are legitimising the coup as happened in 2013 before the election after the Heads of State warned against taking part in the election because it would be rigged," Mandaza said.
People's Democratic Party spokesperson and MDC Alliance member Jacob Mafume said the opposition could still win the elections despite of the skewed conditions.