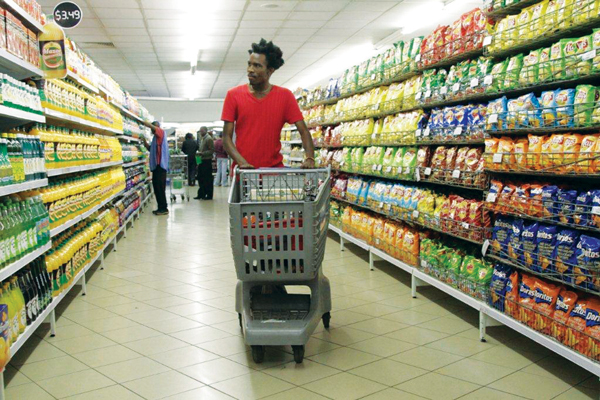 THE Consumer Council of Zimbabwe (CCZ) has reported a 2,88% increase in the cost of living to $591,58 last month from March with a rise in the food basket contributing to the figure.
BY TATIRA ZWINOIRA
In the CCZ's April 2018 family basket survey, the rise in the family food basket contributed to the increase in the cost of living, rising 2,63% to $144,20 from a March comparative of $140,50.
"The cost of living as measured by the Consumer Council of Zimbabwe low income urban earner monthly basket for a family of six increased from the end-March 2018 figure of $588,70 to $591,58 by end-April 2018, showing an increase of $2,88 or 0,49%," CCZ said
"The food basket increased by $3,70 or 2,63% from $140,50 by end-March 2018 to $144,20 by end-April 2018. The price of detergents decreased by $0,82 or 5,77% from $14,20 to $13,38."
In a phone interview with NewsDay on Friday, CCZ executive director Rosemary Siyachitema said they had not seen any wild fluctuations in the prices of basic commodities and that the marginal increments in the prices were buoyed by cash shortages.
"We have not seen any wild fluctuations, for example, like the September 2017 increases. You will find in that thing (CCZ's April 2018 family basket survey), which I will send to you it also has a graph, so you will be able to compare the rises and the falls are merely gentle they are not as wild as before," she said.
"So, what we generally see is that things will go up by three or four cents down three cents, back up by five cents and things like that, so those are the general fluctuations that we see, it has been quite muted over the last month."
During April, CCZ found increases in margarine of $0,08 from $1,36 (at the end of March) to $1,44, roller meal $0,43 from $8,62 to $9,05, one kilogramme pack of brown sugar of $0,06 from $1,90 to $1,96, cooking oil of $0,03 from $1,45 to $1,48, and flour of $0,01 from $1,82 to $1,83.
Other increments included rice 2kg by $0,03 from $2,46 (at the end of March) to $2,49, tomatoes $0,12 from $0,96 to $1,08, onions $0,30 from $1,27 to $1,57, cabbage $0,08 from $0,72 to $0,80, one kilogramme of meat $0,11 from $5,12 to $5,23 and washing powder $0,06 from $1,48 to $1,54.
The consumer body only recorded decreases in salt by $0,04 from $0,27 (at the end of March) to $0,23, bath soap $0,21 from $1 to $0,79 and laundry bar by $0,05 from $1,44 to $1,39.
"As CCZ, we assume that the increase in the total figure of the food basket can be attributed to the seasonal products such as tomatoes, onions among others. The shortage of cash can be attributed to the price increase of basic commodities," CCZ said.
"The CCZ continues to encourage consumers to shop conscientiously and to always buy certified products. Where the products are not certified, to exercise their right to information by carefully examining if the products they are purchasing are well labelled, packaged and provided with vital information such as manufacturing and expiry dates and ingredients used in the make-up of the products."
Prices may further increase this month as a litre of fuel has hiked to $1,40 and $1,26 for petrol and diesel respectively, over the past two months growing seven and three cents during the period.