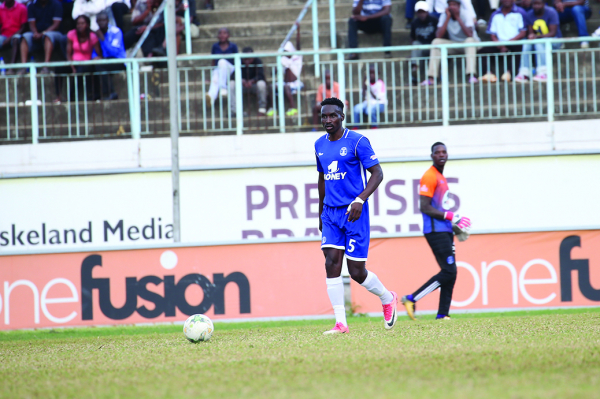 Dynamos defender Marshall Machazane will take over the captain's armband ahead of Castle Lager Premier League match against Bulawayo Chiefs at Barbourfields Stadium tomorrow, following the injury of Obey Mwerahari and the non-availability of regular captain Ocean Mushure.
BY GARISH PHIRI
Biggie Zuze, Dynamos interim head coach confirmed that Mwerahari, who was leading the team in the absence of Mushure, who is staying away in protestfor the $21 000 he is owed by the club, will not be part of the team since he had picked up a thigh injury during the defeat against Harare City last week.
"We had suffered a few injuries from the Harare City game, James Marufu had a shoulder injury, Obey Mwerahari( (captain) has a pulled muscle I don't think they can make it. I think we have got enough arsenal at our disposal, in defense we have Marshal Machazane, he can do well and I think he will lead the young stars," he said.
Going into this match DeMbare will be desperate for a win considering they have a new coach at the helm after the dismissal of Lloyd Mutasa this week.
Zuze is taking this as an opportunity to prove that he can do the job, having been confined to the role of assistant coach for a long time at the club.
Dynamos won just two of their first 10 matches in the topflight this term.
He said his ambition was to try and win all the remaining matches starting with an away trip to Bulawayo Chiefs tomorrow.
"It's a very big responsibility (coaching Dynamos). You see this is one of those opportunities that come once in a life time. I have been hoping to coach Dynamos. I appreciate and the only thing now is to try my best," the interim Dynamos mentor said.
Zuze said that he is impressed by the positive attitude among the players as he tries to do things his own way.
"It's looking good, you can see the zeal of wanting to change things is there and it is just unfortunate where we are coming from (the dismissal of Mutasa) and with all things that have happened. I think the biggest job now is to psyche up the players and focus on the job that is at hand, especially against Bulawayo Chiefs," he said.