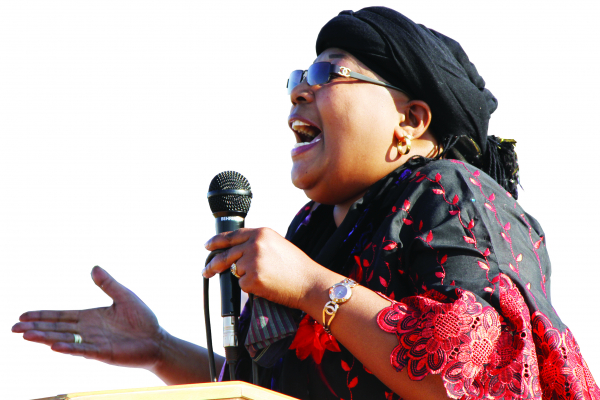 THOKOZANI Khupe's breakaway faction of the MDC-T has expressed shock over police's failure to arrest suspected party hooligans, who verbally abused the former Deputy Prime Minister during her Supreme Court hearing in Harare on Tuesday.
BY TALENT GUMPO
Khupe was verbally abused and labelled a "sellout" by the Nelson Chamisa-led
MDC-T supporters during a court hearing, where the two leaders are fighting over leadership of the opposition party.
Khupe faction's spokesperson, Linda Masarira said the violent attacks happened in the presence of police officers, but no arrests were made.
"We were first attacked on Saturday, when we were going for our rally, but we did not think they (Chamisa supporters) were going to take the violence to Supreme Court grounds. It is a sign that the Chamisa camp harbours people, who do not have respect for the law," she said.
Masarira slammed the police for not bringing the perpetrators to book.
"None of the people, who were instigating violence have been arrested, yet the police were there. We expect the police to do their job because of not only what the attackers did in their presence, but they showed utter disrespect for the Supreme Court," she said.
"For police to let them march and chant derogatory statements and hurl insults, as well as physically attack some of our members outside such an august house leaves a lot to be desired. They stormed the grounds in full force chanting [unprintable] slogans, pushing and shoving us around, banging and stoning our vehicles."
Masarira said the attack had strengthened their resolve to fight the manipulative and patriarchal domination that continues to plague the country's political landscape.
"We have an obligation to uphold, and this is one of our struggles, where we are constantly fighting for gender equality in a society where women are treated with disregard and malice and we will not stop," she said.
Khupe's spokesperson, Khaliphani Phugeni in a statement said: "The continuous attacks on the person of Dr Khupe, by a tribal and chauvinist cabal, masquerading as democrats should be roundly condemned by all progressive people across the political divide.
"The Chamisa-led hoodlums have made it their infamous trademark to denigrate women and minorities with impunity."
He said the failure to condemn acts of violence "save for the usual lip service claims that some unspecified action will be taken against perpetrators actually vindicates Khupe".
Phugeni said the activists were getting instructions from top offices to eliminate Khupe before the 2018 elections.
National police spokesperson, Paul Nyathi referred the Southern Eye to Harare provincial spokesperson, Simon Chazovachii, who said he was looking into the matter. "I am in a meeting now, call me in 15 minutes. I will be ready with details," he said.
But efforts to get the details later on hit a brickwall, as he was not picking calls.