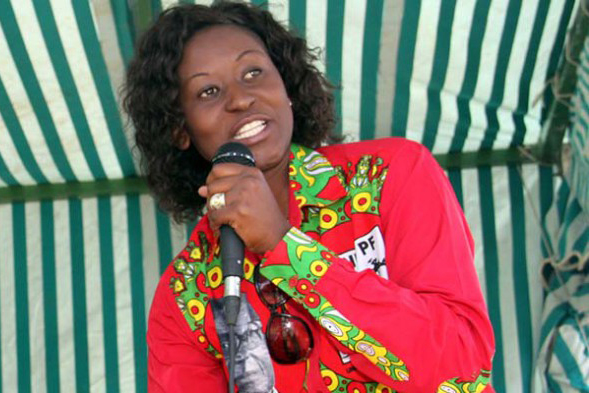 ZANU PF Harare provincial women's league chairperson, Ratidzo Mukarati and Kuwadzana legislature Betty Nhambu-Kaseke were reportedly involved in a public spat recently during a meeting to discuss the recently held party primary elections.
BY WINSTONE ANTONIO
Sources told NewsDay that during the confrontation, Kaseke allegedly accused Mukarati of behaving like former First Lady Grace Mugabe, who had developed a penchant for publicly attacking senior party members.
"Kaseke and Mukarati almost fought during the Harare provincial coordinating committee meeting presided over by provincial chairman Godwills Masimirembwa and attended by members of the Central Committee, provincial executives, war veterans and both winning and losing candidates in the primary elections," the source said. "Mukarati stood up and shouted at Kaseke in a typical Grace Mugabe fashion."
Kaseke yesterday confirmed the fracas, saying Mukarati was disrespectful and needed leadership orientation. She said it was not the first time Mukarati had allegedly attacked her in public on personal matters.
"This so-called chairwoman for Harare province who imposed herself on that position is getting out of hand and she needs to be stopped from intimidating people using senior people's names in the party and soldiers," she said.
"I have been quite for a long time while she has been attacking and accusing me falsely, getting into my family affairs saying all sorts of nonsense about me and my husband. If l am wrong as she claims, what does my family affairs have to do with her or the party?"
Kaseke accused Mukarati of working with two councillors to destabilise the party in the forthcoming elections.
"I wish the party can deploy her in other areas as she openly said arikuda kurovera bhora musango together with the other two councillors whom she is claiming they are her project," she said.
But Mukarati yesterday dismissed the claims saying it was the media that was trying to create tension between her and Kaseke.
"I don't know what you are talking about. All what I know is that Kaseke is my MP and I am even campaigning for her," she said before dropping the call.