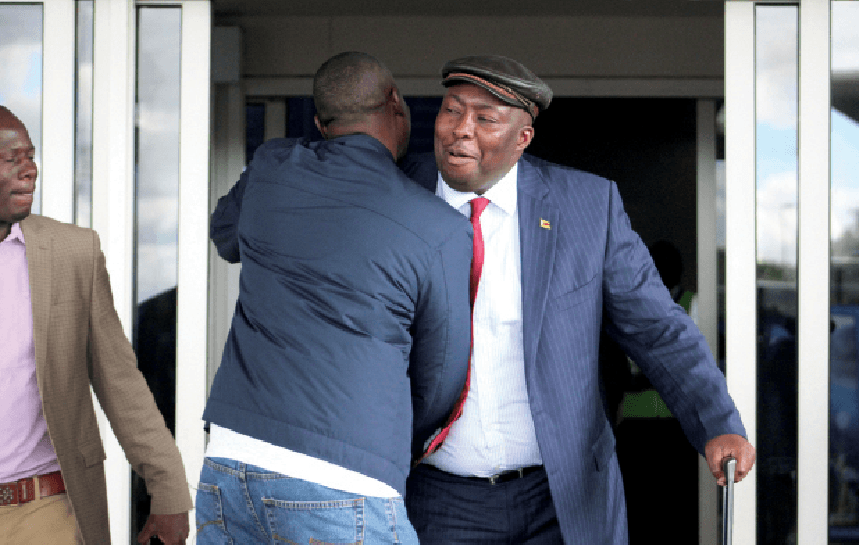 FORMER Zanu PF political commissar Saviour Kasukuwere, yesterday broke his six-month long self-imposed exile and flew back home where he was briefly grilled by State security agents at the Robert Gabriel Mugabe International Airport, before being set free.
BY XOLISANI NCUBE
Kasukuwere, who fled the country following former President Robert Mugabe's ouster last November, arrived aboard a South African Airways flight in the company of his wife Barbra around midday.
"I am very happy to be home, it's good to be back," a jovial Kasukuwere said as he walked towards his vehicle. Asked as to what the police wanted from him, Kasukuwere said: "They were only asking me how I left the country, what I was doing there and where I was staying. I have nothing to fear. This is my home."
As soon as he got into the car, a group of Zanu PF supporters with placards started to denounce his return, describing him as a thief who had stolen funds meant for the youths. So tense was the atmosphere at the airport with State security agents milling around taking photographs of people gathered to welcome Kasukuwere, particularly members of the Mugabe-linked National Patriotic Front (NPF). "Dzosa mari yemayouth (bring back youth funds), Mapurisa batai munhu (police can you arrest him)," were some of the placards that welcomed him.
Kasukuwere was said to be a kingpin in the G40 faction which was fiercely opposed to the rise of President Emmerson Mnangagwa but was vanquished by the military operation which catapulted the then Vice-President to succeed Mugabe.
It was not clear by late yesterday if police were doing any investigations on Kasukuwere as the National Police Spokesperson, Charity Charamba was not picking her calls.
Before his return, the media was awash with reports suggesting that he had cut a deal with the military for his return, but early in the day while in South Africa, Kasukuwere dismissed the claims through social media platforms saying: "What wrong have I committed? If there is anything which I stole, I will answer to that. People should not speculate a lot, I am going home and will face anything which comes my way."