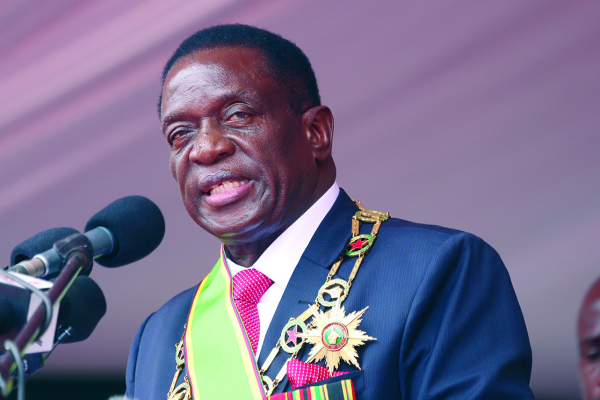 PRESIDENT Emmerson Mnangagwa (pictured) has signed the Electoral Amendment law, paving the way for holding of elections, in spite of opposition parties' demands for further reforms.
BY VENERANDA LANGA
The signing of the Act was announced in a Government Gazette yesterday, which said the law was effective from Monday.
MDC-T chief whip in the National Assembly, Innocent Gonese told NewsDay that the opposition was angry over Mnangagwa's assenting to the Act without taking their concerns on board.
"It is a big disappointment because if we are to move forward as a country, then we need undisputed elections, and the Electoral Amendment Act in its form now is in bad taste because our colleagues in Zanu PF did not walk the talk and the gazetted Act did not take into account our suggestions that printing of ballot papers must be transparent to all political parties," Gonese said.
"We made clear that we wanted those reforms, but since the Bill has been signed into an Act it is now a political issue which is already out of the hands of the Legislature."
Before the Electoral Amendment Act became law, Gonese had moved for different amendments including that the Electoral Court be given powers to disqualify candidates.
He also pushed for the relaxation of voter education so that it is not only done by the Zimbabwe Electoral Commission, but by other interested parties.
"Our main bone of contention was the printing of ballot papers, and Zec has said the current requirements are that they do not need to consult political parties, but we wanted an open tender to ensure that all stakeholders are satisfied.
Meanwhile, the Speaker of the National Assembly Jacob Mudenda announced that the MDC-T had advised the Standing Rules and Orders Committee (SROC) to recognise Nelson Chamisa as the leader of the opposition in the National Assembly, replacing fired Thokozani Khupe. Mufakose MP Paurina Mpariwa (MDC-T) was also endorsed as a member of the SROC.
MPs also observed a minute of silence in memory of two legislators Mike Gava (Mhondoro Ngezi Zanu PF) and Josephine Chitembwe (PR MDC-T) who died this week.